"I paid for myself to go over," he told the BBC in 2018. "Nobody else was going, so I was backpacking, planes, trains and automobiles." For those poor sods who perhaps don't understand the nuances of football fandom and the appeal of such a trip, the why was Burrows' passion. A passion for Motherwell Football Club. He ran a website on the club and, with a new manager at the helm in Mark McGhee, someone had to send "pictures and reports back".
There was no need for a train, a plane or an automobile back to ML1, Burrows simply "floated home" on a high from Austria. The now Rangers managing director Stewart Robertson, working for the Steelmen at the time, had offered him his dream job. Well, a realistic dream job. It was unlikely McGhee would have had plans for him as back-up to their main striker Chris Porter.
The journey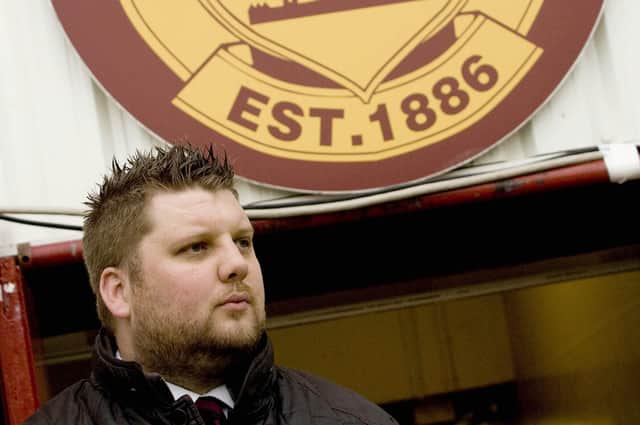 Burrows started his journey in the club's communications department. A journey which has brought various awards, different roles, the chief executive position of the team he loved, eight managers, seven European qualifications, criticism from ex-Celtic boss Brendan Rodgers and, perhaps most importantly, fan ownership. When Stevie Hammell became the latest manager he was talked about as Mr Motherwell, as Keith Lasley has in the past. But, in reality, it has been a moniker, a mantle held by Burrows. It is why, on Thursday when it was revealed he would be leaving Fir Park, there was shock and surprise aplenty. There will have been many within Scottish football who would have viewed it as a marriage for life. When that is considered it is easier to understand the reaction to the departure – albeit he will stay in post until an appointment is found. On social media many messages read like eulogies. That was the impact, the influence he had at Fir Park, from working in communications, to learning under Leann Dempster to become general manager before the top job in 2014.
Amongst those messages of thanks, admiration and support were questions regarding the timing of the announcement, 48 hours or so before the biggest game of the season when Motherwell, who possess the worst home record in the league, host Ross County on Saturday in a relegation six-pointer. Burrows noted the news was coming out anyway and he wanted it to be on "my terms". His preferred terms would have been at a more positive time on the field for the club and with a successor lined up. Through his vast experience he will know football is not perfect. And this season has been far from perfect with a manager change and movement behind the scenes.
Motherwell's struggles
On Sunday, during the 3-2 loss to Hibs at Fir Park, Burrows took a rare seat in the stand for the match and was heckled by a small number of supporters. He is a genuine supporter of the club and will understand the frustration which comes with losing, even if it was unnecessary. There is a feeling of antipathy around the club at this moment in time. The club's ultras were quiet during the match with Hibs as they protested against Police Scotland, while the squad is in desperate need of new talent and inspiration.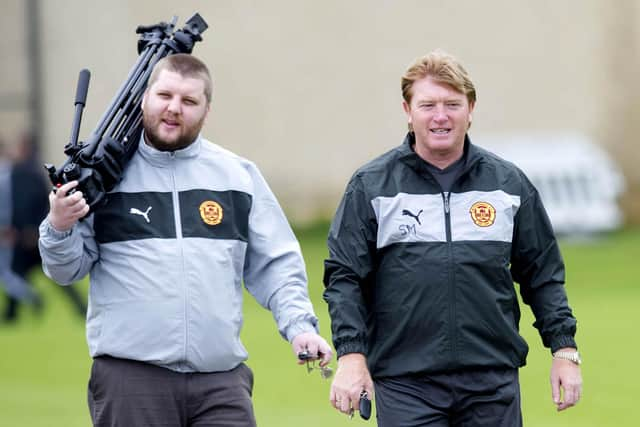 But, surely, there is awareness amongst the Well support that the one person, more than most, who has and will continue to knock his pan in for Motherwell Football Club is Alan Burrows. Throughout his long tenure it would be fascinating to know the number of hours he has clocked up, taking on so much. When it's your club, your passion, those extra hours and days become a need. There is a reason why his standing within Scottish football is so high, both in the corridors of the SPFL and SFA and with fans of other clubs. He cares with former Well star Louis Moult noting "he's always been there for me and my family personally and professionally which speaks volumes for the passionate, caring person that he is". For fans he is relatable and looks to engage with those paying their hard-earned money. He is passionate and driven. Only a supporter would walk "round with a laptop trying to demonstrate to the media that it wasn't a penalty", as former Celtic boss Brendan Rodgers once lamented. While more recently there were some words exchanged with ex-Motherwell star Tony Watt with Burrows admitting he got caught up in the emotion of the match against Dundee United and they shook hands afterwards.
Burrows legacy
That's it in a nutshell. Not only is Burrows a shrewd and savvy operator but everything is done with a conscience and emotion. Few clubs have done so much for the community in relation to their size as Motherwell. The club acting as a vehicle for good, especially around mental health. Much of that has come under Burrows' watch.
"The reason the club has the direction it has now is because of decisions Alan made, the people he brought in," Motherwell season-ticket holder Graeme Thewliss said. "If you are going to build your football club and bring more people into you have to keep doing the right thing for a really long time. Ultimately that should be Alan's legacy to the football. That insistence on doing the right thing, possibly the difficult thing, but doing the right thing for as long as possible."