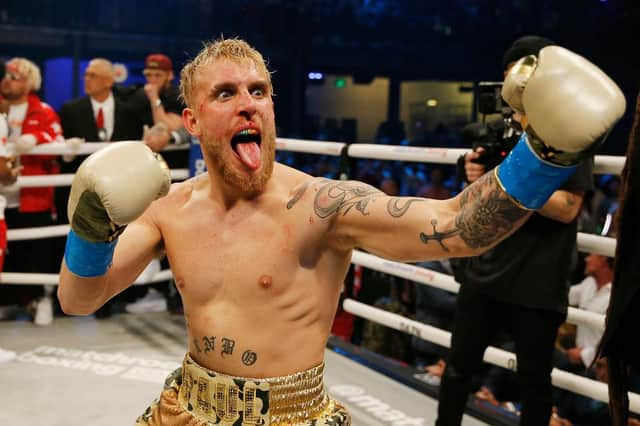 Jake Paul has yet to face a professional fighter (Getty Images)
He's defeated a Youtuber, he knocked out a former NBA player and now Jake Paul is set to take an astronomical step up and fight an MMA fighter.
Paul has made no secret of his desire to go toe-to-toe with a professional fighter, frequently calling out former UFC Welterweight champion Conor McGregor.
The divisive Youtube star has now got his wish and will fight retired MMA fighter Ben Askren in a boxing match.
Here's everything you need to know about the fight.
The pair will touch gloves on April 17.
The fight will take place at 'The Fight Club' run by the rapper Snoop Dogg and the social networking app Triller.
What format will the fight take?
According to journalist Ariel Henwani the fight will be an eight-round pro boxing match.
What have the fighters said?
A cocksure Paul announced the fight on Twitter, stating that Askren; "has less losses on his record than Conor McGregor does yet I'm still going to knock him out faster than Jorge Masvidal did.
He added: "Some MMA guys think that because they throw punches they know how to box.
"I shocked the world when I knocked out an NBA superstar athlete but still some people complained that he's not a real fighter.
"So now I'm giving the people what they want by taking on a real fighter.
"After I add Ben to my knockout meme collection, what can anybody say?"
On Twitter Askren said: "its cute that Jake thinks he is a real fighter, Im gonna beat him up April 17".
Askren later told TMZ Sports: "It won't be more that I hit him and he goes down, but over the course of the eight rounds, he realizes, 'Holy s**t, I'm in a real fight. I don't really like this. I'm just some spoiled rich kid. I'm just gonna find an easy way out."
He added: "It's gonna be like a TKO, maybe round six, round seven. Something to that effect."
Jake Paul has two professional fights to his name, though neither opponent had a professional fight career.
Paul knocked out both fellow Youtuber AnEsonGib and former NBA player Nate Robinson.
Ben Askren lost just twice in his 22-fight MMA career. Jorge Masvidal famously knocked out Askren in their bout in just five seconds.
Askren's fight with Paul will be the first of his boxing career.
Perhaps surprisingly Jake Paul is an early favourite with PaddyPower offering odds of 8/15 for him to emerge victorious.
Askren on the other hand is listed at 6/4.