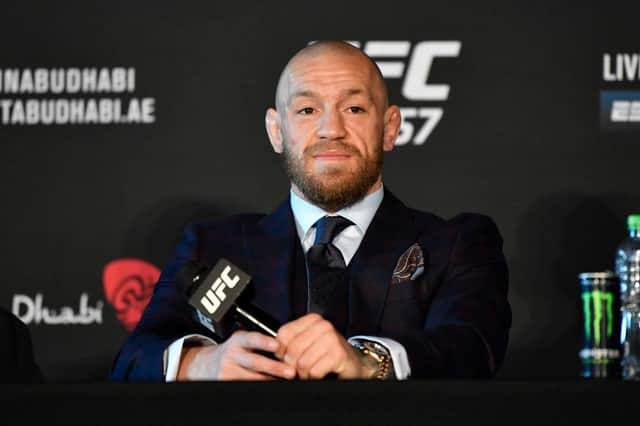 Dustin Poirier earned a dramatic stoppage against Conor McGregor on Saturday night, avenging his defeat to the Irishman seven years earlier.
In the wake of the fight McGregor vowed to carry on in mixed martial arts after the defeat to his lightweight rival at UFC 257 on Fight Island in Abu Dhabi.
Post-match the Crumlin fighter could be seen hobbling on crutches, as a result of persistent kicks to his lead right calf by his Louisiana opponent.
McGregor has already retired on three occasions and there was some speculation that he may yet again step away from the octagon.
How to watch highlights of McGregor vs Poirier II
The bout was shown exclusively on BT Sport Box Office in the UK and you can still fork out £19.95 to watch a full replay of the fight.
BT is showing the fight every three hours on its Box Office channel, though you can opt to view the fight online at any time instead.
In due course highlights of the Abu Dhabi fight will be made available on the UFC Youtube channel.
Who will Conor McGregor fight next?
Speculation over McGregor's next opponent is already rife.
Here's a rundown of some of the most likely options:
Both McGregor and Poirier mentioned a mouthwatering trilogy bout in their media obligations afterwards.
McGregor was understandably more eager to run the fight back with Poirier but will likely keep his options open, insisting his main focus was on regrouping and assessing what went wrong on Sunday morning. Having reversed his latest retirement to fight Poirier he will hope his rival follows through on his initial enthusiasm for a third showdown.
McGregor vs Khabib Nurmagomedov II
Right at this moment, the prospect of what might be the most lucrative and highly-anticipated fight in combat sports is in tatters. Nurmagomedov emphatically beat McGregor in October 2018 then Poirier 11 months later before retiring last year with a perfect 29-0 MMA record after seeing off Gaethje. White said the Russian was looking for "something spectacular" from the two headliners which could have forced him to reconsider. But White said after Poirier's win: "He said to me 'Dana, be honest with yourself, I'm so many levels above these guys, I've beaten these guys'. It doesn't sound very positive. We'll see."
Pacquiao signed to the same management company as McGregor to seemingly pave the way for a money-spinning bout. The Filipino multi-weight champion wished McGregor well on Twitter and added "Let's make 2021 the best year ever for fight fans." McGregor confirmed afterwards the deal was "as good as done" but his knockout perhaps diminishes the appetite for the contest and may lead to Pacquiao looking elsewhere. McGregor, for his part, said: "There's none of those leg kicks in boxing! I always did want to focus on my MMA career but I'm also open. I'll see what happens."
Youtuber Jake Paul has frequently demanded a fight with McGregor, but the Irishman doesn't appear convinced that a fight will take place.
Speaking to BT Sport, he said: "You know, that is what it is.
"We'll see what happens, he seems like a confused little kid to me, to be honest.
"He's willing to get in there, I don't know what'll happen, it's not on the radar at the minute with the young lad.
"I know, I have a teammate [Dylan Moran] – him and Dylan have been back-and-forth, so you never know."