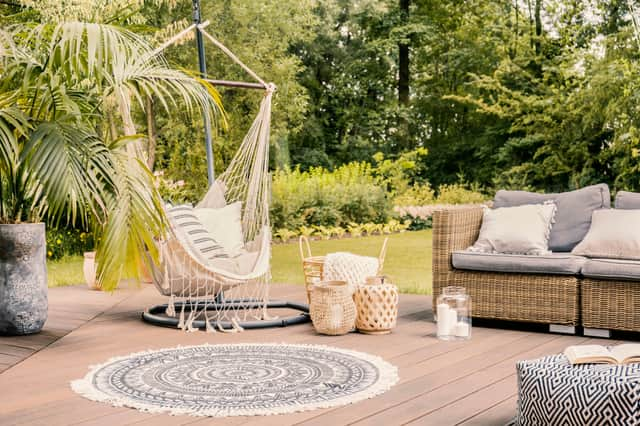 Our expert finds the best outdoors rugs in the UK
This article contains affiliate links. We may earn a small commission on items purchased through this article, but that does not affect our editorial judgement.
Whether a deck, patio or balcony, one quick and affordable way to up the décor and comfort of that space is the addition of an outdoor rug. There are rugs to fit all shapes and sizes, and even more exciting, many of these rugs double up also to use indoors.
How do I chose an outdoor rug?
Outdoors rugs are made nearly always of polypropylene. This artificial material is water-resistant and capable of withstanding most weather conditions, and are durable yet can be processed to be soft and even mimic a short pile rug.
Unlike a wool carpet, they are stain-resistant to most spills except oil, will not go mouldy, and are fade-resistant. However, they do not like direct heat as they have a low ignition point and melt, so for safety is best kept away from outdoor fires and candles. And, if that's not enough to please, they are affordable.
Choosing an outdoor rug is easy, what size, colour or pattern, and your budget. Cheaper rugs usually have a serged edge – made by wrapping yarn around the edge - which works very well but will make the rug lighter, and unless under a piece of furniture, can lift in windy conditions. More expensive rugs will be folded and stitched, which makes it heavier and helps the rug lay flat.
Outdoor rugs come mainly as flatwoven, which means it is – well - flat and textured, or with a short pile which is softer but if used in a heavy traffic area will flatten and, unlike wool, will not spring back.
How to care for your outdoor rug
Mop up spills as they happen if possible; otherwise, any proprietary floor cleaner or even a mild bleach solution should lift any stains.
Occasionally lift the rug and clean the floor underneath and the underside of the rug to prevent mould.
This stylish, brightly coloured rug was one of the favourites on the test, not just for its good looks but also for underfoot; the rug is lovely and soft without looking or feeling artificial.
The rug is weighty enough to stay flat (except in a strong wind), light ra