Forget Spotify - Get 4 Months of Amazon Music Unlimited for Free
You have until 8 AM on July 13th to get one of the best Prime Day deals so far.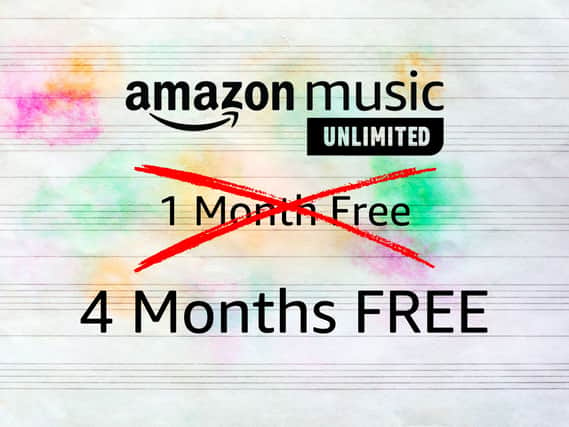 Amazon is offering an irresistible deal on its premium Amazon Music Unlimited service, but you have to act fast as it ends in two days. Instead of the standard one month free, you now get four months of access to an endless music library. If you're ready to dive in, click here to grab the deal. With the cost of living crunch, I would advise taking this offer and cancelling any other music streaming service, like Spotify, for the next four months. You can always rejoin later.
You might even end up preferring Amazon Music Unlimited to Spotify. It has more songs than Spotify, offers higher-quality lossless audio streaming and has ad-free podcasts (although not all are ad-free).
You have until the end of the Amazon Prime Day event to take up this offer. That means you have until 8 AM on Thursday, 13th July. But why wait?
What does Amazon Music Unlimited offer?
Amazon Music Unlimited goes beyond the basics. With this service, you get unlimited access to 100 million songs, ready to stream ad-free on all your devices. No more annoying interruptions - it's just you and your chosen tunes.
Are you tired of skipping through tracks to get to your favourite song? The free version of Amazon Music is limited to six skips. With Amazon Music Unlimited, you can pick and play any song with unlimited skips. Whether you're a fan of classic rock, pop, jazz, or classical, there's something for every mood and preference.
Moreover, with the offline listening feature, your music can follow you everywhere, even in areas with poor or no internet connection. This deal costs £10.99/month after the free 4-month trial or £8.99/month for Prime Members. Upgrade now to start enjoying these benefits.
Experience Spatial Audio
Amazon Music Unlimited offers spatial audio that lets you hear your favourite tunes like never before. Thousands of songs mixed in Dolby Atmos & 360 Reality Audio create this fully immersive, three-dimensional sound.
Moreover, the service boasts the highest quality streaming audio, which lets you hear music the way the artist intended - more clarity, richness, and emotion.
What is the HD difference?
Amazon Music Unlimited offers different levels of audio quality, including standard definition (lossy compressed audio files), high definition (CD quality audio, aka, "lossless"), and ultra-high definition (better than CD quality audio, up to 24 bit, 192 kHz).
This tiered approach allows you to enjoy over 7 million songs in ultra-high definition, exclusive ultra-high definition remastered albums and curated HD and ultra-high definition playlists.
The idea is that, with the right gear, you'll be able to capture every detail and nuance of the studio recording. It's hard to overstate how great a deal this is. Get 4 MONTHS FREE NOW.
Requirements for Optimal Sound
To fully enjoy this high-quality streaming audio, you'll need a stable internet connection (data speeds of 1.5 Mbps or higher), a device that supports 16 bit/44.1 kHz or higher (like iPhone 4s and later), and headphones or speakers that support a dynamic range of 20 kHz+ for HD (or 40 kHz+ for Ultra HD). High-quality speakers can significantly enhance your experience.
In summary, this Amazon Music Unlimited deal is a music lover's dream come true. So why wait? Click the link, upgrade your subscription, and let the music play. After all, life is better when listening to your favourite tunes in the highest quality possible. Sign up here.
And remember, you get four months free if you grab this deal now - that's a whole summer of unlimited, ad-free music. Don't miss out; this fantastic offer ends in just a few days!