Nicola Bulley still missing: Everything we know about the case so far, three weeks later
The Nicola Bulley case has gripped the nation and sparked an exhaustive search now spanning across three weeks - but are we any closer to finding answers?
It has now been three weeks since mum-of-two Nicola Bulley vanished while walking her dog in a small Lancashire village. And despite an exhaustive search and thousands of pieces of evidence analysed by police, no major clue that could hold the answers to what happened to the 45-year-old has been found.
Nicola disappeared on the morning of Friday, January 27 as she walked her dog by the River Wyre in the village of St Michael's after dropping off her two young daughters at the nearby primary school. Police have maintained  their "main working hypothesis" is that she fell in the river, but specialist underwater diving teams found no trace of her after scouring the water despite the search being extended all the way out to sea.
At a press conference on Wednesday (February 15), Detective Superintendent Rebecca Smith, who is leading the investigation, said police wanted to find Nicola "as much as anyone else in this country". She added her priority was securing answers for Nicola's desperate family, especially her little girls who "just want their mummy home".
Asked if she was confident Nicola would be found alive after three weeks, she replied: "I want Nicola to be found alive with all my heart, more than anything". But she added that the "likelihood is that Nicola fell in the river".
The Nicola Bulley case is so baffling that it has gripped the nation, attracting media attention from all over the UK along with who police have described as "private detectives from TikTok" descending on the scene. Police say they have been "inundated with misinformation, speculation and rumour" that is "distracting" officers and is "hurtful" to Nicola's family, hindering the investigation.
Here's everything we know about the case so far including Nicola's last movements, evidence presented and "myths" that police say they are keen to dispel.
What happened on January 27 - Nicola Bulley's last known movements and full timeline of events
8.26am: Nicola left home with her two daughters, who are aged six and nine 
8.49am: She dropped off her children at St Michael's Primary School, and spent a few minutes chatting to people in the school yard
8.43am: Nicola set off along a path by the River Wyre in the village of St Michael's with her dog, Willow. 
8.47am: A dog walker who knows Nicola saw her walking Willow around the lower field - their two dogs interacted briefly before the witness left the field via the river path 
8.53am: Nicola sent an email to her boss, and six minutes later sent a message to her friend to arrange a playdate for her children
9:01am: Nicola logged onto a work conference call via Microsoft team - she was on mute and had her camera off 
9.10am: A witness, who also knows Nicola saw her on the upper field with Willow - the dog was off its lead and not in its harness. This is the last confirmed sighting of her.
9.20am: Police believe this was the moment Nicola's phone was laid on a bench by the river
9.30am: The conference call Nicola's phone was connected to ends, but she stays logged on
9.33am: Nicola's phone was found on a bench by another dog walker who did not know her. Willow was also found running loose between the bench and a gate to the field. The dog's harness was found on the grass between the bench and the river bank 
10.50am: Nicola's partner Paul Ansell and the school her children attends are alerted to the situation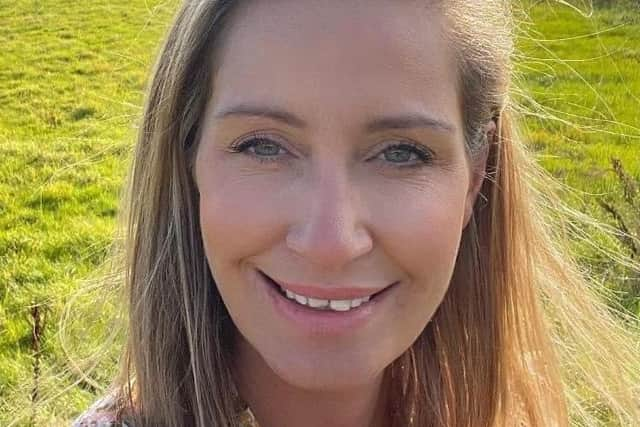 All the evidence presented in the Nicola Bulley case so far
Phone, Fitbit and social media
Nicola's mobile phone, which was discovered on a bench after she went missing, has provided a number of clues and shed some light on her last movements. It has allowed experts to ascertain that she sent an email to her boss at 8.53am and a text arranging a playdate to a friend at 8.57am.
The text came moments before she joined the Microsoft Teams call that her phone was still connected to when it was discovered. Nicola, who works as a mortgage adviser, did not have her camera on and her microphone was muted - but police have said this was "normal" as she would often listen in on work calls during her walks as an "informative session".
At a press conference on Wednesday (February 15), Detective Superintendent Rebecca Smith of Lancashire Police said experts had been unable to obtain information on Nicola's whereabouts using her Fitbit as the device had "had not been synced" in the days leading up to her disappearance.
Nicola often shared images of her riverside walks with Willow on social media. On Facebook, she wrote in November 2022: "A very foggy cold walk this morning, not a day to forget your gloves. Bit spooky too! Set me up for the day though and Willow had the best time!"
At a press conference on February 3, Superintendent Sally Riley updated the public on what Nicola was wearing on the day she went missing. At the time of her disappearance Nicola had on an "ankle-length black quilted gilet jacket, a black Engelbert Strauss waist-length coat which was worn underneath the gilet, tight-fitting black jeans, long green walking socks tucked into her jeans, ankle-length green Next wellies, a necklace and a pale blue Fitbit".
Supt Riley also suggested there may have been an "issue" with Willow that led Nicola to the water's edge as she was found without her lead or harness on. However, the dog was dry when it was found and Nicola is an excellent swimmer, according to friends.
Police revealed early on in their investigation that another woman had been seen in CCTV footage at roughly the same time Nicola went missing and urged her to come forward as a potential valuable witness. The witness came forward "very quickly" but was unable to offer any further insight.
After analysing hours of CCTV footage, police said there was "no evidence to suggest" that she left the field via either Garstang Road or Allotment Road. This has led officers to focus on the river and the river path.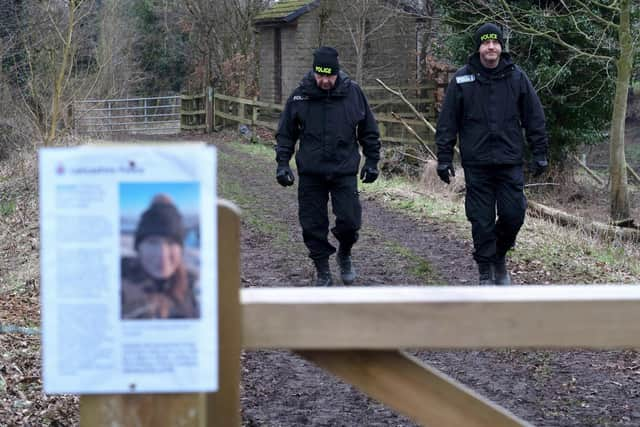 Nicola was graded as high-risk and had 'specific vulnerabilities'
Nicola was graded as "high-risk" as soon as she went missing, but Det Supt Rebecca Smith said this was "normal" based on the information they had been given. At a press conference on February 15, Det Supt Smith and assistant chief constable Peter Lawson revealed that Nicola had 'specific vulnerabilities' which they refused to outline during the press conference despite being questioned by journalists, as they said this would be in breach of Nicola's privacy.
However, in a written statement, the force later revealed that Nicola had been having "issues with alcohol" which had been brought on by difficulties with the menopause. The force have since been criticised for releasing this information, as some have claimed it fuels speculation, victim blaming and is not relevant to the case.
Police dispel 'myths' around the Nicola Bulley case
At a press conference on February 15, Det Supt Rebecca Smith said she was keen to dispel myths around the Nicola Bulley case that she said were "distracting" to officers. She said Lancashire Police has been "inundated with misinformation, speculation and rumour" that was affecting not only the investigation but "most importantly" Nicola's family.
She listed the "myths" as follows:
Nicola is not in the derelict house close to where she went missing - police searched the property three times with the permission of the owner, but found nothing 
Police are keen to trace a red van that was in the area on the morning of Nicola's disappearance, but they are not viewing the vehicle as suspicious and it was "one of hundreds" of vehicles in St Michael's at the time 
Police have not tracked down a number of fishermen who were spotted by a witness next to the River Wyre at the time of Nicola's disappearance - even though they are keen to speak to them, this is only for any extra information they might provide
A glove that was recovered close to the scene by a member of the public is not believed to belong to Nicola but remains in possession of police 
Detective Supt Smith said there had been a lot of speculation about the caravan park close to where Nicola had gone missing but added its owners had cooperated fully at every stage of the investigation 
Police have not been able to garner any information of note from Nicola's Fitbit as it had not been synced for days when she went missing 
Nicola's dog Willow did not have her harness on when she was found 'agitated' close to where Nicola went missing, but this would have been normal as Willow never had her harness on while in the field 
Police are continuing to look at Nicola's phone, which was found on a bench, and will continue to work on her social media over the coming days - as a result Nicola's social media may appear 'online' but there is no need to contact police
Nicola's phone was connected to a work conference call when found, and it was normal for Nicola to listen in on work calls while on walks, appearing without her camera off and muted
Police have analysed hours of CCTV and there is "no evidence to suggest" Nicola left the field via Garstang Road or Allotment Road, leading them to focus on the river path
Lancashire Police refer themselves to watchdog
Lancashire Police have referred themselves to the Independent Office for Police Conduct (IOPC) over the contact the force had with Nicola on January 10, prior to her disappearance. The watchdog said in a statement: "This afternoon we received a referral from Lancashire Constabulary regarding contact the force had with Nicola Bulley on 10 January, prior to her disappearance.
"We are assessing the available information to determine whether an investigation into that contact may be required and if so, who should conduct that investigation."
Comments
 0 comments
Want to join the conversation? Please or to comment on this article.