Xi Jinping stresses close ties with 'dear friend' Vladimir Putin during first visit to Russia since Ukraine invasion
Russian President Vladimir Putin welcomed Chinese leader Xi Jinping to the Kremlin on Monday, with the Chinese leader touting close ties and strategic visions shared by China and Russia, on the first day of a state visit.
The visit has been framed by Beijing as a peace-making project despite deep scepticism in Kyiv and the across with West.
During the first visit from the Chinese leader since Moscow's invasion of Ukraine, Xi called Putin his "dear friend" and praised his Russian counterpart in turn, saying the country's development had "significantly improved."
The two major powers have described Mr Xi's three-day trip as an opportunity to deepen their "no-limits friendship".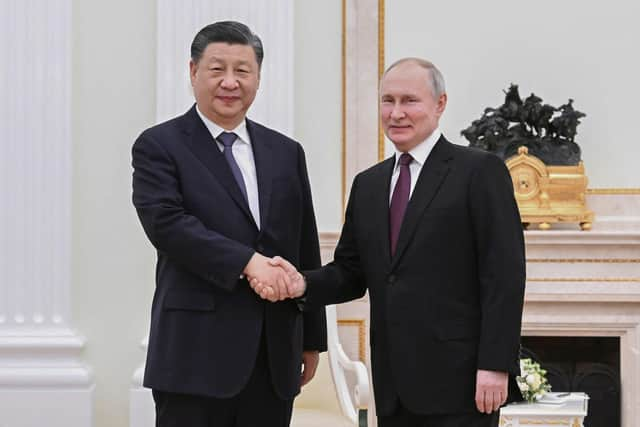 They pair hands before sitting down and making brief statements at the start of their meeting, calling each other "dear friend" and exchanging compliments.
Mr Putin congratulated Mr Xi on his re-election and voiced hope for building even stronger ties.
"China has made a colossal leap ahead in its development in recent years," Mr Putin said, adding that "it's causing genuine interest all around the world, and we even feel a bit envious", as Mr Xi smiled.
He welcomed China's proposals for a political settlement in Ukraine and noted Russia is open for talks.
"We will discuss all those issues, including your initiative that we highly respect," Mr Putin said.
"Our co-operation in the international arena undoubtedly helps strengthen the basic principles of the global order and multipolarity."
Mr Xi said: "We hope that the strategic partnership between China and Russia will on the one hand uphold international fairness and justice, and on the other hand promote the common prosperity and development of our countries."
Kremlin spokesman Dmitry Peskov said that, over dinner on Monday, the two leaders' discussions are likely to include a "detailed explanation" of Moscow's actions in Ukraine.
Mr Putin also specifically said the meeting sends a message to Washington that the two countries are not prepared to accept attempts to weaken them.
"The US policy of simultaneously deterring Russia and China, as well as all those who do not bend to the American diktat, is getting ever fiercer and more aggressive," he wrote.
Mr Xi's trip comes after the International Criminal Court in The Hague announced on Friday that it wants to put Mr Putin on trial for the abductions of thousands of children from Ukraine.
China looks to Russia as a source of oil and gas for its energy-hungry economy, and as a partner in standing up to what both see as US domination of global affairs.
The two countries, which are among the five permanent members of the UN Security Council, have also held joint military drills.
US officials have suggested indications China is considering supplying Russia with weapons, but have seen no evidence they have actually done so.
Last month, China called for a ceasefire and peace talks between Kyiv and Moscow, a move that was welcomed by Ukrainian President Volodymyr Zelensky.
The Kremlin has welcomed China's peace plan and said Mr Putin and Mr Xi will discuss it.
Comments
 0 comments
Want to join the conversation? Please or to comment on this article.