War against Ukraine: What image is Vladimir Putin trying to portray from PR drive?
It feels like Vladimir Putin is on a major PR drive – yet the question remains as to what image, exactly, he is trying to put across.
From his "spontaneous" tour of the occupied Ukrainian city of Mariupol at the weekend, where he drove – in the dark – around the city Moscow has insisted it is rebuilding as a great part of Russia after months of relentless shelling, to his newspaper column published today in Chinese state media, everything feels very carefully orchestrated.
In the article published in the People's Daily Newspaper, to coincide with Chinese leader Xi Jinping's visit to Moscow, which began on Monday, Mr Putin wrote that he and Mr Xi had "high expectations for the upcoming talks".
The joint PR plan with China includes a return article by Mr Xi in the Kremlin's Rossiiskaya Gazeta daily.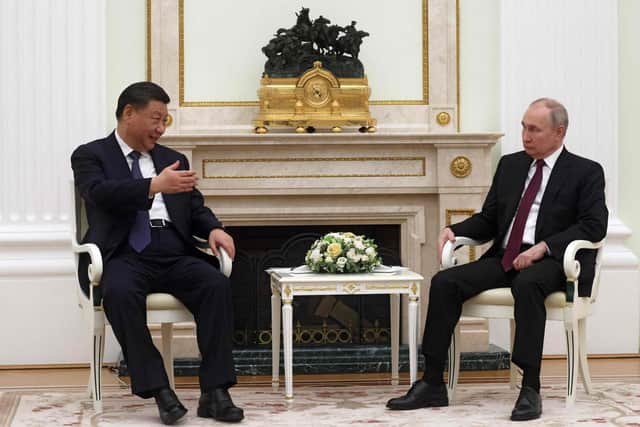 The newspaper columns, which will have been poured over to the nth degree by Beijing and Moscow's advisers before agreeing the final text, lay out what the pair want to put across during the three-day visit. Mr Putin's message to the world is clear – China is his ally.
In the article, he described his opposite number as a "good old friend" with whom he enjoys the "warmest relationship", adding Russia's relations with China were at "the highest level in their history".
"We have reached an unprecedented level of trust in our political dialogue, our strategic co-operation has become truly comprehensive in nature and is standing on the brink of a new era," he wrote.
China, on the other hand, is focusing on peace, claiming a 12-point peace plan drafted by Beijing last month to end the war in Ukraine reflects "the unity of the world community's views". Mr Putin told Mr Xi that he had studied the plan, which includes "ceasing hostilities" and resuming peace talks, in detail before their meeting and said he was open to discussing it.
Both messages are framed in characteristic bluster – "there's nothing to see here, this is what we planned all along".
Yet there has undoubtedly been the odd spanner in the works along the way of their path towards unconditional friendship.
Mr Xi's visit comes just days after the International Criminal Court (ICC) issued an arrest warrant for Mr Putin, over allegations of war crimes relating to Ukrainian children being deported to Russia.
For most international leaders – 123 of them to be exact – visiting Mr Putin after this warrant would be impossible. Indeed, he would risk arrest if he travelled to any of the affiliated nations. However, China is not one of the countries signed up to the Rome Statute of the International Criminal Court.
In fact, China has gone a step further to take Mr Putin's side, on Monday calling on the ICC to avoid "politicisation and double standards" and urging it to "uphold an objective and impartial stance" and "respect the immunity of heads of state from jurisdiction under international law".
The next two days will undoubtedly contain more orchestrated PR from both sides. Make no mistake, both leaders already know what the outcome of this meeting is likely to be. We just need to wait until they tell us.
Comments
 0 comments
Want to join the conversation? Please or to comment on this article.