World Explained: The bizarre details of meeting between Vladimir Putin and Kim Jong-Un, from pink couches to fresh lobsters
The six-course lunch served at the Vostochny Cosmodrone included crab dumplings and entrecote
Everything about their meeting was fascinating in a compelling, meeting-of-the-James-Bond-baddies kind of way. It was almost possible to forget the serious potential of the deal they are likely to be making.
Mr Kim arrived in Russia on a dark green armoured train – rumoured to be the same train, or at last one very like it, that his father and grandfather have used before him. Speculation abounded that his private plane was too ancient to fly and that North Korea's roads would not sustain a trip by car.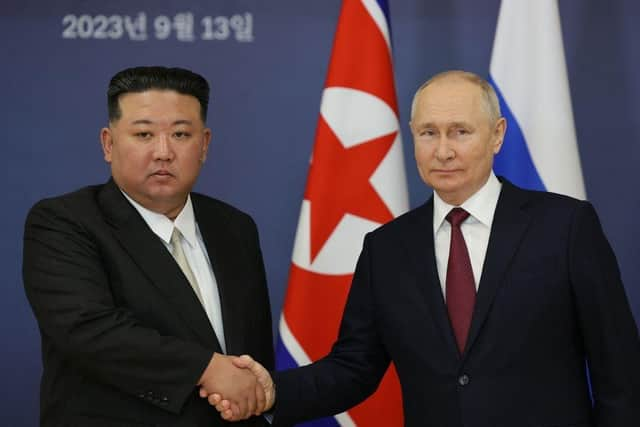 Despite slow maximum speeds of just 25mph on the North Korean side of the border due to the secluded nation's crumbling rail network, the bulletproof train has long been the mode of transport chosen by the country's leaders, keen to relax and hold briefings ahead of meetings with foreign counterparts.
As the train crossed into Russia earlier this week, foreign correspondents with knowledge of Mr Kim's previous trips abroad rushed to detail the interior of the luxury locomotive. Meals of fresh lobster could be likely, one news outlet claimed. Mr Kim's father reportedly enjoyed regular deliveries of expensive French wine to his train while on a three-week journey to Moscow many years ago.
A video released in 2018 of Mr Kim showed the North Korean leader meeting with top Chinese officials in a wide train car decked out with pink couches. Other images, shown two years later by North Korean state media, revealed flower-shaped lighting and zebra-patterned chairs.
The first theory was the pair could be meeting in Vladivostok. They had done so before – in 2019 – and Mr Putin was already in the city for the Eastern Economic Forum. It made sense.
Then, as if the whole thing couldn't get more cinematic, Mr Kim's train turned away from the city and headed north to a new venue – a Russian space station.
There, at the Vostochny Cosmodrome, they discussed "possibilities" for military co-operation, but have so far fallen short of announcing an anticipated arms deal. That agreement could see North Korea supply weapons to Russia in its war against Ukraine. Instead, Mr Putin hinted the discussions would centre on him helping North Korea to build satellites: "This is why we've come to Vostochny Cosmodrome," he said. Attempts by Pyongyang to launch spy satellites earlier this year failed.
The entire set up smacked heavily of Cold War-era theatricals – sumptuous luxury, a carefully choreographed examination of a rocket launchpad.
Mr Putin pointedly welcomed his counterpart in a clear message to the outside world with the Russian proverb, "an old friend is better than two new ones".
Afterwards, the duo sat down to a six-course lunch that included crab dumplings, sturgeon and entrecote during which Mr Putin raised his glass of red wine to toast "the strengthening of friendship and co-operation between our countries".
Whatever deals were agreed or not, the summit did its job. Russia has a staunch ally in North Korea and he does not want the West to forget that.
Comments
 0 comments
Want to join the conversation? Please or to comment on this article.