Wildfires: Second Greek island Corfu evacuated as Greek tourism minister tells holidaymakers to keep coming amid Rhodes fires
Some residents of Corfu have also had to leave their homes as fires spread there
Tourists are being evacuated from a second Greek island as the Greek tourism minister insisted travellers should continue to fly to the wildfire-hit destinations.
Olga Kefalogianni said people should continue to fly to resorts on Rhodes and Corfu, even as the first "rescue flights" started taking British tourists home from the Greek islands.
This comes as Scottish politicians and consumer groups called for the immediate addition of Rhodes to the 'red list' of places the Foreign Office advises against all but essential travel, to allow holidaymakers easier access to refunds and compensation.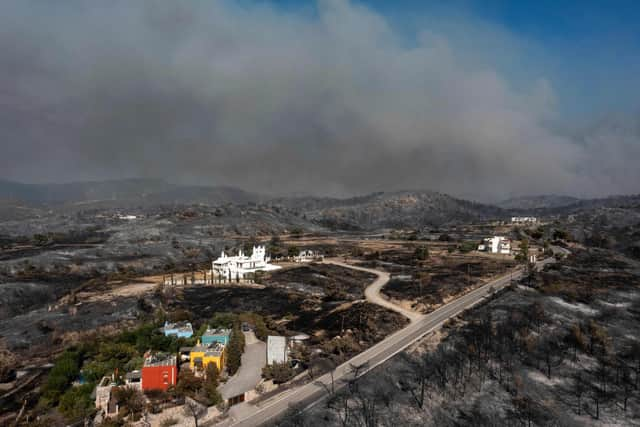 The UK Government is yet to temporarily designate Rhodes as a red list country, making it harder for thousands of tourists looking to get a refund for their trips to Rhodes under their travel insurance.
Ms Kefalogianni claimed only around 10 per cent of Rhodes had been affected by the fires, which have seen more than 20,000 people evacuated from the nearby area. Tourists have reported sleeping on floors in hotel lobbies, or school buildings, as well as in the airport. It is believed between 7,000 and 10,000 British tourists are still on Rhodes.
"There has been no disruption in the airport and it's particularly important to stress only a small part of the island of Rhodes is affected," Ms Kefalogianni said.
She said the situation in Corfu – where 2,500 people were evacuated from their homes on Monday morning – was "not alarming". It is understood no hotels were affected by the evacuation following the outbreak of some fires, which authorities have said could have been due to arson.
"We had some evacuation from houses, but nothing like the evacuation that took place in Rhodes," she said.
Niamh Watt, from Glasgow, who was travelling with three friends, said she saw people evacuating as their taxi pulled up outside her hotel in the Rhodes town of Lindos. The group then got an emergency text message from Greek authorities telling them they needed to leave the area.
She said: "We got on the bus not knowing where we were going to and it took us to a hotel further up the coast where we spent the night in a conference room along with hundreds of other tourists. At this point we were told the hotel was shut for the night, so none of us had any idea of what the next step would be."
Madeleine Woods added: "At that point we were relying on our own analysis of the situation because we weren't given any sort of guidance from the local authorities or the government. So we decided to book an AirBnb in what seemed a safe spot. That's where we are now and we'll be here until the fires stop."
Theofanis Skembris, deputy mayor of North Corfu, said an investigation into the fires that began on Monday on the island were likely to conclude they were caused by arson. "Fires can't start simultaneously in four different places," he said.
Tui said it had already brought back three planeloads of passengers on repatriation flights from Rhodes. "We're now working hard to get everybody home safely, with our first passengers returning to the UK on three dedicated flights overnight and plans in place to get everyone affected back as soon as possible," the firm said.
The travel advice from the Foreign Commonwealth and Development Office (FCDO) for Greece states only that "extreme temperatures are affecting many areas of Greece and there are a number of active wildfires".
Countries and regions can be temporarily added to the red list, which tells British citizens not to travel there unless absolutely necessary, if a situation is deemed to be serious or dangerous. Without the listing, travel insurance firms are unlikely to pay up if a tourist opts not to travel.
In Rhodes, tourists have told of having to sleep on the floor of school halls as hotels near the fire-hit areas were evacuated.
Consumers faced similar problems at the beginning of the Covid outbreak – before it was formally declared to be a pandemic – as flights and holidays were still going ahead, despite fears over infection from the virus and stories of hotel lockdowns abroad.
Liberal Democrat foreign affairs spokesperson Layla Moran said: "As wildfires blaze and thousands are evacuated, it is staggering that the Foreign Office travel guidance for Rhodes does not advise against all but essential travel.
"Thanks to Conservative ministers' inaction, many families are unable to make a claim against their insurance, leaving them paying the penalty for deciding not to fly out to the island."
Rory Boland, editor of Which? Travel, said without an FCDO warning, travellers who did not want to go, but were refused flexibility to rebook may be unable to claim on their travel insurance. He said more tourists arriving would be "disruptive to local authorities" managing the situation.
"While it is positive to see some airlines and tour operators making the sensible decision to offer customers refunds or the opportunity to rebook free of charge, no holidaymaker should be forced to choose between losing their money and travelling into a natural disaster zone," he said. "It would be indefensible for holiday companies to cash in on travellers who sensibly decide not to travel, and more airlines and holiday companies must show flexibility."
Prime Minister Rishi Sunak defended the Government's actions. "The current situation is impacting on a limited area in Rhodes and whilst it's right to keep it under review and it's possible that the advice may change, we do not want to act out of proportion to the situation on the ground," he said.
Comments
 0 comments
Want to join the conversation? Please or to comment on this article.