Why was Donald Trump impeached the first time? Previous charges against the former US president explained
Trump – the first president in US history to be impeached twice – will face a Senate trial on the accusation of "inciting insurrection" ahead of the Capitol riots
Trump has been charged with incitement of insurrection after hundreds of supporters stormed the US Capitol in protest of the 2020 presidential election result.
It is not the first time Trump has been impeached by the House of Representatives - the president faced a Senate trial in 2020 for an abuse of power and obstruction of Congress.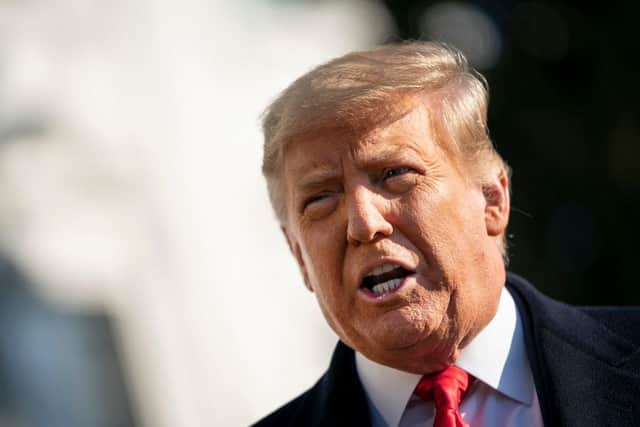 Here's all you need to know.
Why was Trump impeached the first time?
This stemmed from a phone call Trump made to the president of Ukraine, Volodymyr Zelensky, encouraging him to dig up dirt on political rival Joe Biden and his son Hunter.
Biden jr worked for a Ukranian energy company when his father was US vice president under Barack Obama.
Trump's administration was accused of withholding military aid from Ukraine at around that time and a White House meeting for Zelensky.
The House's judiciary committee said Trump had "betrayed the nation by abusing his high office to enlist a foreign power in corrupting democratic elections".
But he was acquitted by the Senate on 5 February 2020, on a near party-line vote. Senator Mitt Romney, a Republican from Utah, was the only one to break party ranks.
What does impeachment mean?
Impeachment, in US politics, is a charge of misconduct made against a public official or president.
It is a political process - not a criminal one - which is the first of a two step action which has the power to remove a current president from office.
Reasons to bring a charge, or charges, of impeachment include "treason, bribery, or other high crimes or misdemeanours", as stated by the US constitution.
No president has been convicted in the senate after impeachment.
What is the impeachment process?
The US constitution states there needs to be an impeachment and a conviction of misdemeanour to remove a sitting president from office.
It begins in the House of Representatives where articles of impeachment are discussed before a vote is cast, needing a simple majority to pass.
If passed, the process goes to the senate, the upper chamber of the US Congress, for a trial to be held after which senators vote whether to convict.
This time around, though, there needs to be a two-thirds majority in favour of removing the president from office - this milestone has never been reached in US history.
And, as Trump's second trial has only just begun after he left office on 20 January, this will remain the case.
But a majority vote by senators would open the door to preventing Trump from running for president again - yet this would require another senate majority vote.