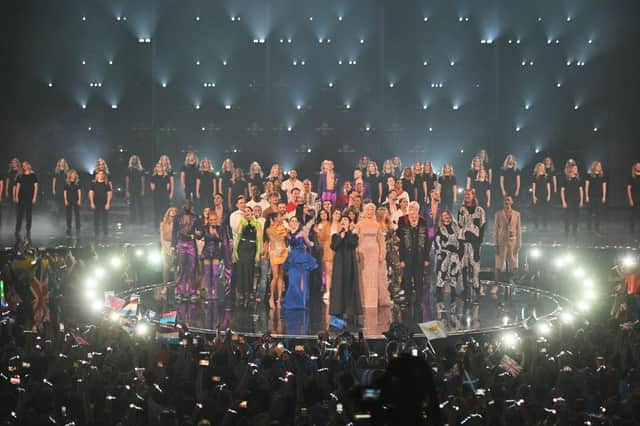 When Dutch performer Duncan Laurence walked out onto the Eurovision stage singing Liverpool anthem You'll Never Walk Alone, the message was clear: Slava Ukraini.
Winner of the 2019 contest, Laurence was soon joined by all of this year's competitors, as well as the four hosts of the event, two of them - Alesha Dixon and Ukrainian singer Julia Sanina - wearing bright blue and yellow dresses.
Eurovision's ethos is political impartiality – making this year's event particularly tricky to navigate for organisers the European Broadcasting Union (EBU).
A win from conflict-hit Ukraine last year saw the UK step in to host the event, with culture and music from the winning nation featuring strongly in the broadcast. Like last year, Russia was barred from entering.
A bid from Ukrainian president Volodymyr Zelensky to address fans at the event was vetoed by the EBU, who said it would breach Eurovision's strict criteria. Competitors are "prohibited the possibility of making political or similar statements as part of the contest", the EBU said following Zelensky's request, adding that they believed he had "laudable intentions" in wanting to speak.
This is not the first time the event has found itself drawn into politics. Following an invasion by Russia in 2009, the Georgian entry was banned for using anti-Vladimir Putin lyrics, while the name of Armenia's 2015 entry was changed following claims it contained a call for recognition of genocide in the country.
Ukrainian singer Jamala won the contest in 2016 with 1944, which contained lyrics referencing the deportation of the Crimean Tatars – shortly after the Russian annexation of Crimea – but was permitted to compete due to the perceived "historical" nature of the song.
It is difficult to argue that this year's contest is not political: the yellow and blue colours of the Ukrainian flag which have become synonymous with support for the country against the Russian invasion were everywhere; the message of unification against Russia was clear.
And so should it have been. But it is difficult for organisers to know where to draw the line.