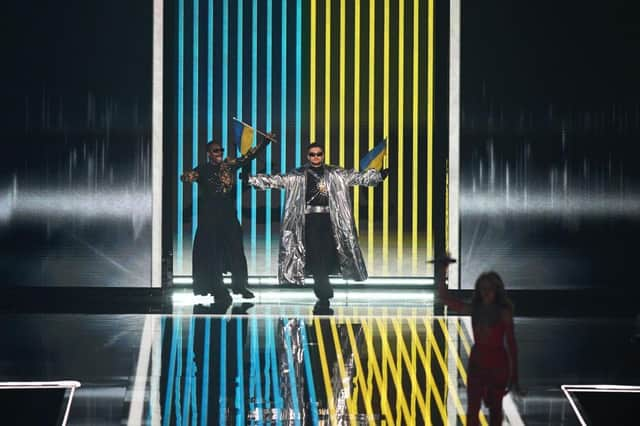 The western Ukrainian city which is home to the country's Eurovision act was bombed by Russia minutes before they performed in Liverpool.
Two people were injured and some warehouse buildings were damaged in the attack on Ternopil last night.
Just minutes before their performance on the Eurovision stage, Tvorchi posted on Instagram that the band's city had been targeted.
Their song, "Heart of Steel", was about the troops who defended the Azovstal steel plant in Mariupol, which was ultimately captured by Russian forces. Mariupol is still under Russian occupation.
Ukraine's foreign ministry confirmed the attacks.
After performing, the band added: "Ternopil is the name of our hometown, which was bombed by Russia while we sang on the Eurovision stage about our steel hearts, indomitability and will.
"This is a message for all cities of Ukraine that are shelled every day. Kharkiv, Dnipro, Khmelnytsky, Kyiv, Zaporizhzhia, Uman, Sumy, Poltava, Vinnytsia, Odesa, Mykolaiv, Chernihiv, Kherson and all others.
"Europe, unite against evil for the sake of peace!"
The west of Ukraine has seen some attacks, but is generally less targeted than regions in the east, where the front line of fighting lies – or capital Kyiv, which has been subject to regular targeted attacks.
Tvorchi is made up of producer Andrii Hutsuliak and Nigerian singer Jeffery Kenny, who moved to Ukraine as a student. The band had been hoping to defend Ukraine's Eurovision title after Kalush Orchestra's win in Turin last year, however they ended up placing sixth.
The Foreign Ministry of Ukraine said: "Right when the Eurovision final was live, Russia attacked the Kyiv and Ternopil regions. The last is the home region of Tvorchi who represented Ukraine at the contest this year."
The UK's ambassador to Ukraine Dame Melinda Simmons said the attack was a reminder of why Ukraine – which won last year's event – could not host the show this year. Instead, the UK, which came in second place last year, stepped in to host Eurovision in Liverpool.
She said: "Reminder that the reason why Ukraine could not host this event is because Russia continues to invade and the people of Ukraine live in continuing danger."