Why is Venice introducing a €5 daily tourist tax? Why is the tourist tax for the Italian city different to those charged in other cities?
The Italian city attracted 13 million visitors in 2019
The Italian city of Venice is set to implement a daily tourist tax for any visitors – even if they are not staying overnight.
The council is likely to approve plans for the €5 daily tax on a trial basis, in a bid to combat over-tourism.
Venice city council member for tourism, Simone Venturini, said the trial would run during peak tourist periods next year.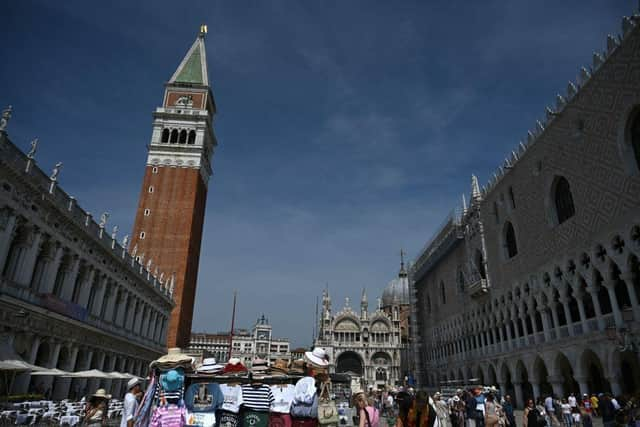 "Venice is among the most visited European cities ... [and so] suffers the most from excess tourism," he said.
"The objective is to invite daily tourists to choose [off-peak] days. We want to test [the fee] and, if needed, improve it. We cannot discuss for [an]other 40 years what's best to do."
Venice, which is just 2.7 square miles in size, has struggled with a huge influx of tourists. The city hosted almost 13 million tourists in 2019, according to the Italian national statistics institute. It is expected the number of visitors will this year return to pre-pandemic levels.
Earlier this year, Unesco said the city should be added to a list of world heritage sites in danger, as the impact of climate change and mass tourism threaten causes irreversible changes to it.
Which other places charge a daily fee for tourists?
Bhutan has long charged a much more substantial daily fee for tourists in a bid to limit the number of people visiting the kingdom after it opened up to tourists for the first time in 1974. However, authorities have from this month cut the fee to just $100 per day, with additional charges for accommodation and food, which were previously included in the daily tax. Children ages six to 12 will pay $50 per day, and those aged five or under can visit free of charge.
Starting in 2024, non-EU citizens, including British citizens, Americans, Australians and other travellers from outside the Schengen zone, will need to fill out a €7 application to get into the bloc.
Separately, Barcelona is increasing its tourist tax for overnight visitors in two separate rises over the next two years, to €3.25 by April 2024, while visitors to Valencia will have to pay between 50 cents and €2 per night depending on their chosen accommodation, for up to seven nights.
Thailand is introducing a tourist fee of 300 Baht (£6.75) this year, in what it said aimed to "take care of tourists".
What is different about the Venice tax?
In Venice, all tourists will be charged a daily fee to enter the city, while most places only put a tourist tax on visitors who are staying overnight.
The reason is the city's streets have become overcrowded with large numbers of people arriving on bus trips, or even cruise ships.
In 2021, large ships were barred from entering Venice. However, it is believed the ban is yet to be enforced and large volumes of people still disembark in the city for a few hours.
Comments
 0 comments
Want to join the conversation? Please or to comment on this article.