Who are Proud Boys? The 'Western chauvinist' far-right group explained – and what Donald Trump has previously said about them
Founded by British-Canadian right-wing activist Gavin McInnes and chaired by Enrique Tarrio, Proud Boys are identifiable by their wearing of black and yellow Fred Perry shirts and have been known to use violence against left-wing groups such as Antifa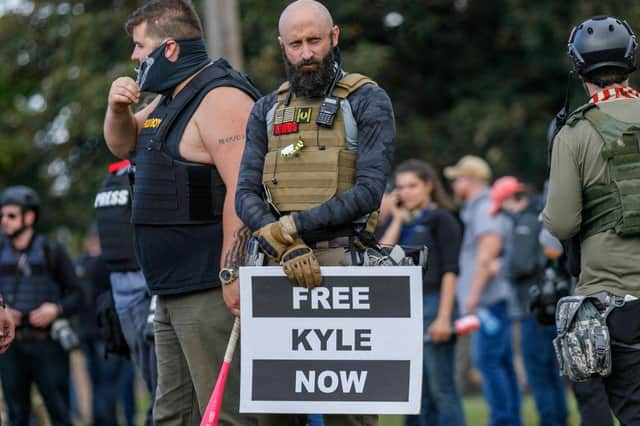 Though the invaders of the symbol of American Democracy are made up of a bizarre patchwork of far-right groups, conspiracy theorists and lone wolves, a significant proportion of those pictured at the scene affiliated themselves with the often violent Proud Boys.
In recent months the group have become synonymous with violent opposition to the Black Lives Matter and Antifa movements.
And ahead of president-elect Joe Biden's inauguration, many have again promised to march in support of a defeated Donald Trump.
Proud Boys are a far-right, anti-immigrant, all male group who have been known to use violence against left-wing opponents.
Members can be identified by their use of black and yellow Fred Perry shirts, American flags, Make America Great Again hats and military armour. Members often carry guns.
The group was founded in 2016 by Canadian-British right wing activist Gavin McInnes. The name Proud Boys derives from a song in Disney film Aladdin 'Proud of Your Boy'.
According to reports, the initiation process to join the group involves reciting: "I'm a proud Western chauvinist, I refuse to apologize for creating the modern world", before being punched by fellow members. They are then required to receive a tattoo, to vow not to masturbate and then get into a fight "for the cause".
Their beliefs are extreme and vary from the call to "give everyone a gun" and "end welfare" to the return to traditional gender roles such as "venerate the housewife".
The FBI list Proud Boys as an extremist group while Southern Poverty Law Center have labelled them a hate group.
Several members of the extremist group have been arrested for engaging in violence with two members jailed for beating up left-wing protestors in New York in 2019.
The group recently gathered in Portland to support Donald Trump and "end domestic terrorism". Some held signs which read "Free Kyle" showing support for Kyle Rittenhouse who is charged with murdering two anti-racist protestors in Kenosha, Wisconsin.
Trump's stand back and standby comments explained
On September 30, during a farcical first US presidential debate, moderator Chris Wallace called on Donald Trump to denounce the actions of far-right white supremacy groups.
Democrat candidate Joe Biden, who went head to head with Mr Trump in Cleveland, Ohio, on 29 September, then prompted the president to denounce the group Proud Boys.
Mr Trump refused, stating: "Proud Boys - stand back and stand by".
In a debate full of muddled and shocking soundbites from the incumbent president – Mr Trump refused to say he would recognise November's result - his dog-whistle response to extremist far-right groups was arguably his most disturbing.
Members of the far-right group celebrated the 45th US president's quote, with some claiming it was a call to prepare for action.
Mr Trump has since condemned the group, telling Sean Hannity of Fox News: "I've said it many times, let me be clear again, I condemn the KKK [Ku Klux Klan]. I condemn all white supremacists. I condemn the Proud Boys.
"I don't know much about the Proud Boys, almost nothing, but I condemn that."