What is the US Government shutdown and when will it happen?
The deadline for shutdown is on 30 September.
There are just days to go before a deadline which could see the US government essentially shut down – if a solution is not found before then.
But what is the US Government shutdown and how will it affect people living there?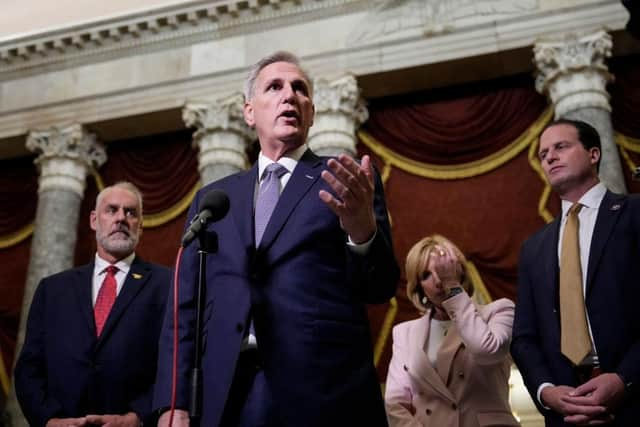 Funding for federal agencies will run out at midnight on 30 September, unless new bills are passed to finance government operations in time for the start of the new financial year.
Under the Anti-Deficiency Act, passed in 1884, federal agencies are barred from spending or obligating funds without an act of appropriation – or another form of approval – from Congress. There are 12 annual appropriations bills needed to fund the US government's activities, but if they are not passed, then all non-essential work must stop until they are.
Millions of government employees would essentially be put on furlough – akin to the mechanism used by governments and private sector employers during the Covid pandemic – however, they would not get paid until the shutdown ends.
This means that many services such as public toilets, passport processing and even food and water safety, would not be carried out during the shutdown and facilities like public parks could be closed.
Some, who are deemed to be essential key workers, such as air traffic controllers, or prison guards, would continue to work, but would also not be paid until the shutdown is resolved.
According to the congressional budget office, a similar shutdown in 2018-19 caused a short-term cost of $11bn on the US economy, an estimated $3bn of which was never recovered after the stoppage ended.
Will it definitely go ahead?
No. Late on Tuesday night, a bipartisan stopgap spending plan was agreed that would postpone the shutdown and allow more time for negotiations over spending. However, this agreement was in the Senate, only the first legislative hurdle for the deal. If it went ahead, it would not only allow government work to continue, but would also see funding continue to flow to Ukraine, something which has sparked sharp division among US politicians.
Its next obstacle would be the House of Representatives, which is led by Republicans. Speaker Kevin McCarthy, a Republican, has already been told he will face opposition if he allows a vote on this to go ahead.
Some hard-right Republicans have told Mr McCarthy that they will try to oust him if he agrees to bring the legislation to the House for a vote.
The Senate stopgap bill, which would keep the government funded until November 17, includes $6.2 billion in Ukraine aid and $6 billion for natural disasters.
US media have claimed sources said that Mr McCarthy plans to amend the Senate's stopgap spending bill to include a border security package – which could spark a major row in the Senate over immigration, hours before the shutdown deadline.
Mr McCarthy and supporters have also been pursuing an alternative "continuing resolution" which would extend the deadline to 31 October, however that in turn has met opposition from the most conservative element of Republicans,the Freedom Caucus of the House of Representatives.
Comments
 0 comments
Want to join the conversation? Please or to comment on this article.