Ukrainian President Volodymyr Zelensky has called for allies to help enforce a no-fly zone over Ukraine with some calling for such a move using Natio forces - but what does such a move mean and would it escalate the war beyond Ukraine?
What is a no-fly zone? What does it mean?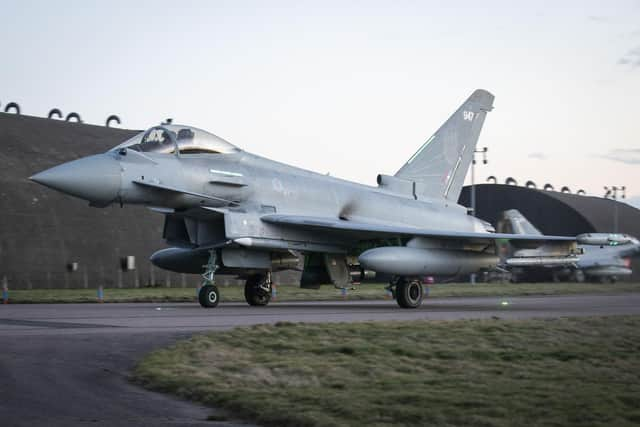 A no-fly zone is the establishment of an area where aircraft are forbidden to fly.
Also known as a no-flight zone (NFZ), or air exclusion zone (AEZ), such military moves prohibit military aircraft from entering a designated airspace.
They are enforced through surveillance, preemptive strikes and by attacking any planes that violate the ban.
They are common to protect areas of land but can also be used to prevent attacks on certain events. For example, they are common during presidential inaugurations and major sporting events.
While a no-fly is a well-known concept, it is a relatively modern military tactic with no-fly zones as they operate now not being used until the 1990s with the Gulf War in 1991.
Will the UK consider a no fly zone in Ukraine?
There have been calls to bring in a no-fly zone across Ukraine, but some have expressed concerns that such a policy could escalate the crisis.
He told BBC Radio 4's Today programme: "Putting UK forces in the position where they would be directly required to shoot down Russian planes, I agree with the analysis… both in terms with feeding (Vladimir) Putin's narrative, but also from the point of the view of the distinction between what we would do for a Nato ally and the Ukraine, which is a close partner, we want to support, but we will not get involved directly in military operations against Russian forces.
"We have considered a no-fly zone but, for the reasons I've given, the international community as a whole has decided against it."
What have NATO said about a no-fly zone?
General Sir Adrian Bradshaw, Nato's former deputy supreme allied commander, has said Nato cannot impose a no-fly zone on Ukraine as this would lead to the "third world war".
He told BBC Radio 4's Today programme: "This is not like Iraq; we're up against sophisticated enemy with very capable air defence assets.
"This becomes a struggle between the forces of Nato and the forces of Russia, on the ground, quite probably from the sea, in the air, in the space domain, in the information domain and in the cyber domain.
"This is war. It amounts to 30 countries against Russia. This is the third world war in anybody's language.
"We cannot afford to let that happen," he added.
Would a no-fly zone escalate the conflict?
While a no fly-zone could result in fewer air strikes, it could also lead to direct clashes between Natio forces and Russian planes - which could in turn result in outright war.
As mentioned, preemptive strikes and attacking any planes that violate the ban is normal procedure during a no-fly zone. As such, if Russia opted to violate the ban then it could result in direct conflict between Russia and other Western states.
Daria Kaleniuk emotionally argued to the Prime Minister at a press conference in Warsaw, Poland, on Tuesday that allies from the Nato defence alliance are wrong to rule out the step out of a fear of provoking a nuclear war with Vladimir Putin.
"Nato is not willing to defend because Nato is afraid of World War Three but it's already started and it's Ukrainian children who are there taking the hit," the executive director of the Anti-Corruption Action Centre civil society organisation told Mr Johnson.
Mr Johnson argued Britain must continue with "tightening the economic noose" around the Putin regime and providing further defensive support to Kyiv.
"In the mean time, as you rightly say, there is going to be a period of suffering for the people of Ukraine for which Putin alone is responsible," the Prime Minister continued.
"It will take time, I'm afraid, for us to come through this period. All that we can do in the meantime is help people like your crew and your family to get out, to get to safety."
But Mr Johnson said he had "no doubt" the international outpouring of sympathy for Ukraine will only grow and that "people will not rest until this injustice is reversed and that Putin not just fails but is seen to have failed in Ukraine".
"I think the whole international community will work together to ensure that you and your family are able to live in a sovereign and independent Ukraine," he continued.
"And I'm sorry it's going to take time, I'm sorry it's going to be difficult and I'm sorry for the tragedy and suffering that you've experienced but thank you very very much for coming today and asking your question. I think everybody today has really appreciated it."