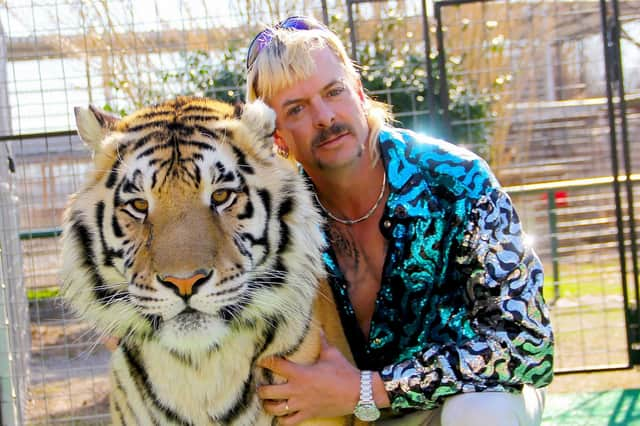 Those pardoned ranged from allies of the US president, such as Steve Bannon, to famous rappers Lil Wayne and Kodak Black.
Joe Exotic, also known as the Tiger King, was among those waiting expectantly for a presidential pardon from the one-term president.
The incarcerated zoo operator reportedly claimed to have a limousine waiting near his prison in anticipation of the news, and has previously formally requested a presidential pardon.
Private investigator Eric Love who is leading Exotic's case told Metro: "We're going to be celebrating."
"We have good reason to believe it will come through. We're confident enough we already have a limousine parked about half a mile from the prison. We are really in action mode right now."
Did Donald Trump pardon Joe Exotic?
Joe Exotic did not receive a pardon from the outgoing president.
Eric Love had earlier told BBC "We are 100% sure that today is our day".
But on Tuesday night at 5pm local time, Love tweeted: "We are still waiting on the pardon".
He maintained his optimism, tweeting in response to a follower: "Trust me....... I have done 219 interviews today. Saving the best for last."
Donald Trump has previously joked that he'll "take a look" at pardoning the former exotic animal trader.
Why is Joe Exotic in prison?
In 2019 Exotic was convicted of 17 federal charges of animal abuse and plotting to have animal rights activist Carole Baskin murdered.
Baskin and Exotic were locked in a long-running feud over the latter's alleged mistreatment of animals.
Who did Donald Trump pardon?
The following people were issued with a pardon by Donald Trump on his final day in office:
Gregory Jorgensen, Deborah Jorgensen, Martin Jorgensen (posthumous)
Randall "Duke" Cunningham – conditional pardon
Robert Cannon "Robin" Hayes