In a lengthy description of issues faced by Ukrainians in Scotland after fleeing war – from being unable to find housing, register with a dentist or find work consummate with their qualifications – Andrii Kuslii, head of the Consulate of Ukraine in Edinburgh, called on Scottish politicians to take action.
Mr Kuslii said refugees living on cruise ships were being refused housing due to the fact they had somewhere to live, meaning they could not be categorised as homeless under Scottish policy.
SNP Alasdair Allen MSP praised Mr Kuslii for being so "honest" about the issues faced by Ukrainians in Scotland.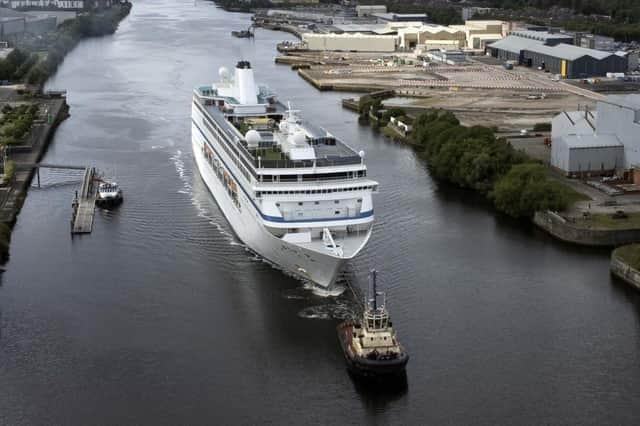 The consul pointed to the situation of more than 1,000 Ukrainians living on a cruise ship in Glasgow. The contract for the MS Ambition is due to end on March 31. However, people living there have not yet been offered a long-term housing solution.
New statistics published on Thursday by the Scottish Government show a total of 22,990 displaced people from Ukraine have arrived in the UK on a visa sponsored either by an individual Scottish sponsor or sponsored by the Scottish Government. An extra 344 people have been matched with Scottish hosts over the past month, while 259 people have left the two ships in Glasgow and Edinburgh.
Mr Kuslii said: "There is no social housing, frankly speaking. Not many [Ukrainian] people received opportunities from the housing association. This organisation refused to house Ukrainians because people who live on ships or hotels are not officially considered homeless. As a result they are unable to receive documents with the status of homeless required by the housing association to get the opportunity to get a place."
He said Ukrainians in Scottish Government accommodation, including the 2,261 on cruise ships and 4,062 more people living in hotels, were concerned any new housing could force them to uproot from the community they had forged around their existing location – such as schooling for children and jobs.
"For people living in hotels, what kind of place of living can be offered and when will it be done?" he asked. "People who lived on the boat socialise in this area and it's important for the local council and Scottish Government to try to find a place not far from this area."
Mr Kuslii said Ukrainians who had managed to secure work were also finding problems in securing private rentals. He asked for a scheme to be set up for local councils to act as guarantors.
"Our Ukrainian fellows are willing to pay half a year's rent up front and have received employment contracts, but private housing is refused too," he said. "Most want a credit history and the presence of a guarantor. All these things cannot be provided by Ukrainians. There is a solution that councils might be considered guarantors for Ukraine."
He said most Ukrainians had struggled to register with a dentist in Scotland, with some forced to travel to other countries, such as Poland, to receive routine care.
The consul warned Job Centre Plus had offered jobs to Ukrainians that "don't match their experience or expectations", as well as the issue of professional Ukrainians whose qualifications in fields such as law, medicine and teaching were not allowed to work in their professional careers in the UK and were being instead directed to jobs such as cleaning rooms in hotels. This issue is not devolved to Scotland and is the jurisdiction of the UK Government.
"I would like that Ukrainians in Scotland have the same right as other nationals living in Scotland," Mr Kuslii said. "If you would struggle to find a solution to [recognising] Ukrainian qualifications in Scotland, it would be much appreciated."
He gave the example of a Ukrainian woman who did not have a driver's licence, who was offered a job as a construction crane driver, while he said people who do not speak English had been offered positions at call centres.
"I think the job centre should be working closely with Ukrainians in order to open up opportunities and be effective for Scottish local communities," he said.
Committee convener Claire Adamson said the Government was "aware" of many of the problems raised by Mr Kuslii."It seems there is a gap in a basic pack of information for people to seek advice and that is something we want to explore with the minister going forward," she said.
Labour MSP Sarah Boyack added: "When we first had these discussions, it was very much early on in [Vladimir] Putin's invasion and I think people were thinking quite short term. I think [now] the experience if you've arrived in Scotland for several months - it's that longer term support and that connectivity which is definitely something we need to be raising with colleagues."
Refugees minister Neil Gray said: "The pace and numbers of people who have arrived in Scotland is unprecedented and we are proud of the welcome we've been able to extend to them. We will of course liaise with the Consul about the issues he has raised.
"We do not want people to spend any more time than absolutely necessary in temporary welcome accommodation and our focus now is on working closely with local authorities and the third sector across Scotland to match people into longer-term accommodation. In September, we introduced the Ukraine Longer Term Resettlement Fund with up to £50 million to bring council and Registered Social Landlord empty properties into use and to increase the housing supply.
"The health and welfare of all displaced Ukrainians remains a priority. Guests on board the chartered vessels and in other welcome accommodation should have access to appropriate support services, including healthcare. The Scottish Government provided guidance to all Health Boards on what health provisions should be made to ensure that people have access to local dental and GP practices. Ukrainians should be able to access healthcare, including GP practices, on the same terms as residents."
Job Centre Plus is not devolved and is operated by the UK Government.
Mr Gray said: "We continue to work closely with the UK Government to support displaced people seeking work in Scotland and to help inform their employment decisions and settle well in Scotland. Scottish businesses are also eager to employ Ukrainians who have arrived, recognising the skills they bring with them."