He has also recently pushed for a quicker route to Ukraine's membership of the European Union. The country was granted EU candidate status in June last year, but leaders have so far not been receptive to an expedited accession.
A spokesman for Charles Michel, president of the European Council, said he had "invited President Zelensky to participate in person in a future summit of the European Council". He added: "For security reasons, no further information will be provided."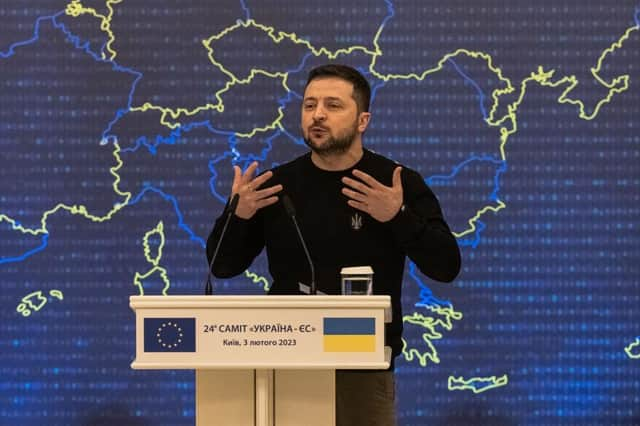 Ukraine's foreign minister Dmytro Kuleba said his department was working on a number of possible visits to other countries by Mr Zelensky, but added the possibility of overseas visits were only possible if the president could "bring specific results for Ukraine" and depending on the military situation at the front.
"Guided by these two criteria, the Ministry of Foreign Affairs is working on some of the president's visits, but when and where they will take place, you will find out from the president himself and from his Office," Mr Kuleba told Ukrainian media.
Mr Michel, alongside EU Commission chief Ursula von der Leyen and 15 European commissioners, attended a summit in Kyiv last week, where Mr Zelensky aimed to push for a rapid start to negotiations over Ukraine's accession to the EU.
The EU said Ukraine has made "considerable efforts" to advance towards membership, but urged Kyiv to implement more reforms, including tackling the country's corruption problems. It did not set out a timeline for accession.
The looming Brussels visit comes as Russian shelling hit more civilian targets in Ukraine, starting a fire in a hospital, before what Kyiv authorities suspect is an impending new offensive by Russia around the anniversary of its invasion, which falls on February 24.
A hospital in the north-eastern town of Vovchansk caught fire late on Monday as a result of the shelling, regional Ukrainian emergency services reported.
The shelling caused multiple fires in the town, including at its two-story municipal hospital, the State Emergency Service in the north-eastern Kharkiv region said.
Emergency crews evacuated eight civilians from the site before putting out the blaze, which caused no casualties.
Vovchansk is in the Kharkiv region, which was occupied by Russia after its full-scale invasion began on February 24 last year and subsequently retaken by Ukraine during a counteroffensive last year.
The anticipated Russian push may seek to recapture territory Moscow lost in that counter-offensive.
Ukrainian officials say they expect the new drive to come in eastern and southern Ukraine, as the Kremlin strives to secure areas it has illegally annexed and where it claims its rule is welcomed.