The sanctions will target technology used by Russia's war machine, among other things, European Commission president Ursula von der Leyen told a news conference.
The sanctions will take aim in particular at components used in the manufacturing of drones, she said, naming Iran as a key supplier of Russia.
Closing loopholes the Kremlin uses to circumvent sanctions will also be a priority, according to Ms von der Leyen, who was on her fourth visit to the Ukrainian capital since the war began.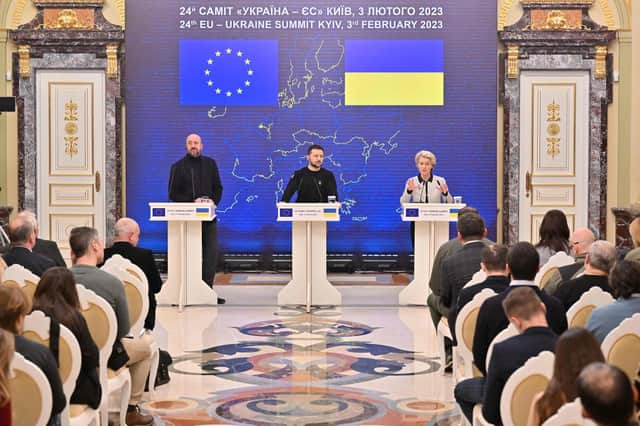 The exact measures in the next EU sanctions package must be agreed upon by the bloc's 27 member countries – a process that can take weeks.
Top EU officials met with Ukrainian president Volodymyr Zelensky in a show of support for the country as it battles to counter the Kremlin's forces and strives to join the EU as well as Nato.
The last such summit was held in Kyiv in October 2021 – a few months before the war started.
The highly symbolic visit is also the first EU political mission of its kind to a country at war.
The high-level meeting came as a 60-year-old man was killed and six others were wounded on Friday after Russian missiles hit central Toretsk, a town in Ukraine's eastern Donetsk region, the local prosecutor's office said in a statement on Facebook.
Ukrainian authorities reported at least six civilians were killed and 20 others were wounded over the previous 24 hours.
Among the dead were two brothers, ages 49 and 42, killed when Russian shelling destroyed an apartment building in the north-eastern Kharkiv region, Ukraine's presidential office said. Their 70-year-old father was taken to hospital with unspecified injuries.
Also, six people were wounded and 18 apartment buildings, two hospitals and a school were damaged in a Russian attack in the eastern city of Kramatorsk on Thursday, governor Pavlo Kyrylenko told Ukrainian TV.
Three people died when a Russian missile hit an apartment building in that city on Wednesday.
European officials were adamant about continuing to support Ukraine militarily and economically, but they did not provide any new details about Ukraine's accession path to the EU.
Mr Zelensky said that Ukraine's goal "is to start negotiations this year". But the process will likely take years and require the adoption of far-reaching reforms, including a clampdown on endemic corruption as the country receives billions of dollars in aid.
Kyiv formally submitted its application in June last year.
Mr Zelensky said progress had been made to further economically integrate Ukraine into the EU across several sectors, including agriculture, industry, energy and customs.
Ukraine's government is keen to get more Western military aid, on top of the tanks pledged last week, as the warring sides are expected to launch new offensives once winter ends.
Kyiv is now asking for fighter jets.