Here, one of them tells his story of their rescue by Ukrainian soldiers as the Russian forces closed in on a hospital treating the wounded.
The first-person account of the siege of Mariupol comes from Associated Press video journalist Mstyslav Chernov, as told to correspondent Lori Hinnant:
"The Russians were hunting us down. They had a list of names, including ours, and they were closing in.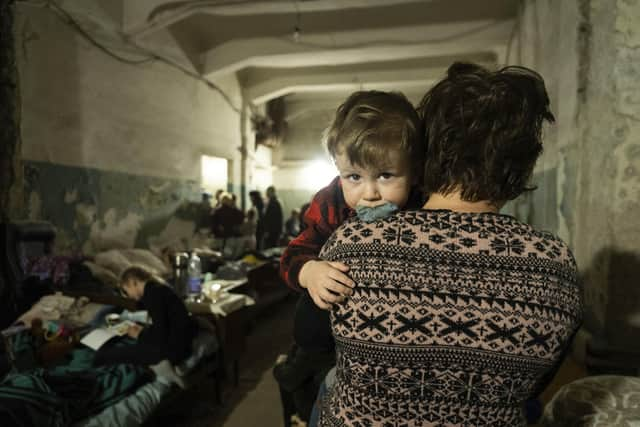 We had been documenting the siege of the Ukrainian city by Russian troops for more than two weeks and were the only international journalists left in the city. We were reporting inside the hospital when gunmen began stalking the corridors. Surgeons gave us white scrubs to wear as camouflage.
Suddenly at dawn, a dozen soldiers burst in, saying "where are the journalists, for f***'s sake?"
I looked at their armbands, blue for Ukraine, and tried to calculate the odds they were Russians in disguise. I stepped forward to identify myself. "We're here to get you out," they said.
The walls of the surgery shook from artillery and machine gun fire outside and it seemed safer to stay inside. But the Ukrainian soldiers were under orders to take us with them.
We ran into the street, abandoning the doctors who had sheltered us, the pregnant women who had been shelled and the people who slept in the hallways because they had nowhere else to go. I felt terrible leaving them all behind.
Nine minutes, maybe ten, an eternity through roads and bombed-out apartment buildings. As shells crashed nearby, we dropped to the ground. Time was measured from one shell to the next, our bodies tense and breath held. Shockwave after shockwave jolted my chest, and my hands went cold.
We reached an entryway and armoured cars whisked us to a darkened basement. Only then did we learn from a policeman we knew why the Ukrainians had risked the lives of soldiers to extract us from the hospital.
"If they catch you, they will get you on camera and they will make you say that everything you filmed is a lie," he said. "All your efforts and everything you have done in Mariupol will be in vain."
The officer, who had once begged us to show the world his dying city, now pleaded with us to go. He nudged us toward the thousands of battered cars preparing to leave Mariupol.
It was March 15. We had no idea if we would make it out alive.
As a teenager growing up in Ukraine in the city of Kharkiv, just 20 miles from the Russian border, I had learned how to handle a gun as part of the school curriculum. It seemed pointless. Ukraine, I reasoned, was surrounded by friends.
In the first few days of the war, the Russians bombed the enormous Freedom Square in Kharkiv, where I had hung out until my 20s.
I knew Russian forces would see the eastern port city of Mariupol as a strategic prize because of its location on the Sea of Azov. So on the evening of February 23, I headed there with my long-time colleague Evgeniy Maloletka, a Ukrainian photographer for the Associated Press, in his white Volkswagen van.
On the way, we started worrying about spare tyres, and found online a man nearby willing to sell to us in the middle of the night. We explained to him and to a cashier at the all-night grocery store that we were preparing for war. They looked at us like we were crazy.
We pulled into Mariupol at 3:30am. The war started an hour later.
About a quarter of Mariupol's 430,000 residents left in those first days, while they still could. But few people believed a war was coming, and by the time most realised their mistake, it was too late.
One bomb at a time, the Russians cut electricity, water, food supplies and finally, crucially, the mobile phone, radio and television towers. The few other journalists in the city got out before the last connections were gone and a full blockade settled in.
The absence of information in a blockade accomplishes two goals.
Chaos is the first. People don't know what's going on, and they panic. At first I couldn't understand why Mariupol fell apart so quickly. Now I know it was because of the lack of communication.
Impunity is the second goal. With no information coming out of a city, no pictures of demolished buildings and dying children, the Russian forces could do whatever they wanted. If not for us, there would be nothing.
That's why we took such risks to be able to send the world what we saw, and that's what made Russia angry enough to hunt us down.
I have never, ever felt that breaking the silence was so important.
On March 11, in a brief call without details, our editor had asked if we could find the women who survived the maternity hospital air strike to prove their existence. I realised the footage must have been powerful enough to provoke a response from the Russian government.
We found them at a hospital on the front line, some with babies and others in labour. We also learned that one woman had lost her baby and then her own life.
We went up to the seventh floor to send the video from the tenuous internet link. From there, I watched as tank after tank rolled up alongside the hospital compound, each marked with the letter Z that had become the Russian emblem for the war.
We were surrounded: Dozens of doctors, hundreds of patients, and us. The Ukrainian soldiers who had been protecting the hospital had vanished. And the path to our van, with our food, water and equipment, was covered by a Russian sniper who had already struck a medic venturing outside.
Hours passed in darkness, as we listened to the explosions outside. That's when the soldiers came to get us, shouting in Ukrainian.
It didn't feel like a rescue. It felt like we were just being moved from one danger to another. By this time, nowhere in Mariupol was safe, and there was no relief. You could die at any moment.
I felt amazingly grateful to the soldiers, but also numb. And ashamed that I was leaving.
We crammed into a Hyundai with a family of three and pulled into a five-kilometre-long traffic jam out of the city. Around 30,000 people made it out of Mariupol that day – so many that Russian soldiers had no time to look closely into cars with windows covered with flapping bits of plastic.
People were nervous. They were fighting, screaming at each other. Every minute there was an airplane or air strike. The ground shook.
We crossed 15 Russian checkpoints. At each, the mother sitting in the front of our car would pray furiously, loud enough for us to hear.
As we drove through them – the third, the tenth, the 15th, all manned with soldiers with heavy weapons – my hopes that Mariupol was going to survive were fading. I understood that just to reach the city, the Ukrainian army would have to break through so much ground. And it wasn't going to happen.
As we pulled up to the 16th checkpoint, we heard voices. Ukrainian voices. I felt an overwhelming relief. The mother in the front of the car burst into tears. We were out.
We were the last journalists in Mariupol. Now there are none.
We are still flooded by messages from people wanting to learn the fate of loved ones we photographed and filmed. They write to us desperately and intimately, as though we are not strangers, as though we can help them.