Ukraine conflict: Nato planes could be given to Ukraine says Ben Wallace as he hits out at Putin's 'meat grinder for an army'
Ben Wallace said planes currently held by Nato countries could be given to Ukraine and warned that the conflict in Ukraine could last another 12 months.
He stated that the Russian leader was "running effectively a meat grinder for an army" as he highlighted the number of Russian casualties.
Asked on LBC whether Nato-supplied fighter jets could be sent to Kyiv, he said: "Supplied by Nato, yes.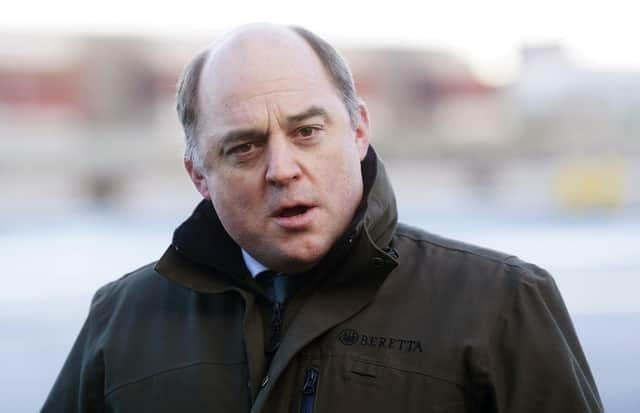 "There is already talk, I think, of an eastern European country supplying MiG-29s."
He added: "We're not going to see Nato, we're going to see countries that are members of Nato potentially put in air force equipment or MiG-29."
Asked whether we could see the war between Ukraine and Russia still going in another 12 months, told LBC: "I think we will.
"I think Russia has shown a complete disregard, not only for the lives of the people of Ukraine, but for its own soldiers.
"We are sitting here 12 months in and 188,000, actually more now, Russian soldiers are dead or injured as a result of this catastrophic miscalculation and aggression by President Putin.
"When someone has crossed the line and thinks it is OK to do that to your own people, running effectively a meat grinder for an army, I think he is not going to stop."
Ben Wallace yesterday praised the "dedication and determination" of Ukrainian soldiers being trained to operate British Challenger 2 tanks donated for the war against Russia.
The former soldier met the troops training at Bovington Camp in Dorset and told them: "Britain is going to continue with you until the end.
"We are not in it for a period, we are in it until we defeat Russia in Ukraine and send them home."
He added: "We will keep with you, and from Britain's point of view the message to Russia is we are not giving up and we are not going away."
Speaking to a Ukrainian commander, he said: "I think your tactics are working alongside the bravery of your soldiers and it's really showing the Russians. Keep doing it."
A total of 56 Ukrainians are being trained by the British Army to operate the 14 Challenger 2 tanks being donated by the UK.
Mr Wallace said that the Challenger and other tanks being donated by western countries had "better capabilities" than the previous equipment used by Ukraine.
Despite the weaponry being sent, pressure is being piled on Rishi Sunak as they both called for fighter jets to be sent to Ukraine.
Both Liz Truss and Boris Johnson have made the plea as they spoke at length in the House of Commons during a general debate on Ukraine.
However, last week, the Defence Secretary claimed it could be years before the UK gives any planes to Ukraine, suggesting Volodymyr Zelensky may even have to wait until the war with Russia is over.
Rishi Sunak also told the Munich Security Conference that more needs to be done to "boost Ukraine's long-term security" and that leaders must "double down" on military support for the war-torn country.
Comments
 0 comments
Want to join the conversation? Please or to comment on this article.