Ukraine conflict: Russian troops suffering 'First World War levels of attrition' as Ben Wallace outline UK response and support to Ukraine
Defence Secretary Ben Wallace has said Russian soldiers are suffering "almost First World War levels of attrition – as he gave an update on the UK's response to the ongoing conflict in Ukraine.
Speaking on a series of media channels, the Defence Secretary gave an update on the ongoing conflict and the UK response.
Ben Wallace told BBC Radio 4's Today programme that Russian troops are suffering "almost First World War levels of attrition and with success rates of a matter of metres" in Ukraine.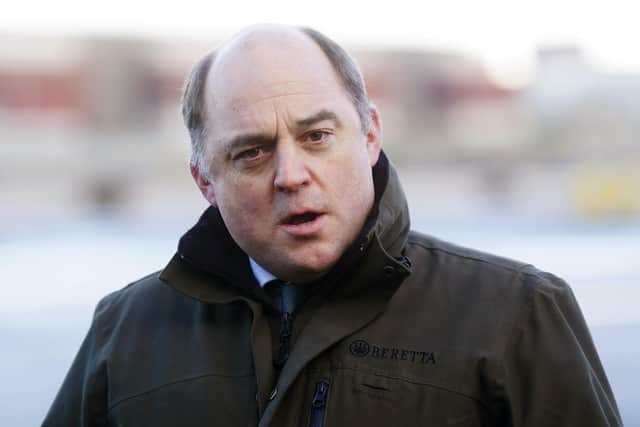 He said: "We now estimate 97 per cent of the whole Russian army is in Ukraine and to put that in perspective that means that those tens of thousands of miles of border Russians have with obviously China, with Norway, with Finland, imagine all those people are stuck now in Ukraine suffering very high levels of casualties.
"I think what Russia is doing is trying to advance, doing so at a human wave, almost First World War levels of attrition and with success rates of a matter of metres rather than kilometres, and I think what we have to ask ourselves is – and this is the biggest unknown – is, when you have a president and a general staff that simply bears either a gap in the reality or indeed no regard for human life of its own, how does that stop?"
The Defence Secretary also outlined the UK response insisting that they would continue to supply Ukraine but that he does not think the UK will give fighter jets to Ukraine in the next few months or even years.
Speaking to BBC Breakfast, he said: "When it comes to fighter jets, I don't think it's going to be in the next few months or even years that we are going to necessarily hand over fighter jets because they are very different weapons systems to hand-held anti-tank missiles.
"These are aircraft that come with not only huge sort of capability challenges, you just can't learn to fly in a week or two, it will take a long time. But also they come with effectively a pit crew, like a Formula One team.
"They come with hundreds of engineers and pilots. And we're not going to deploy 200 RAF personnel into Ukraine in the time of a war.
"We have to plan not only for the fight at the moment where we help Ukraine through seeing off Russia's illegal invasion, but we have to help Ukraine with its long-term resilience in making sure that Ukraine is able to defend itself in the long run."
On what Russia is planning next, Mr Wallace said: "I think that since General Gerasimov was appointed as the sort of overall Ukraine commander a couple of months ago when Putin fired General Surovikin, we've seen a sort of effort to advance on all fronts.
"We haven't actually seen this massing of a single force to punch through, a big offensive – just an effort to advance, and that has come at a huge cost to the Russian army."