This week, the company's chief executive Shou Chew appeared in front of a Congress committee in the US, while closer to home the Scottish Government announced a highly-anticipated ban on the app on government devices, following in the footsteps of Westminster.
Decision makers from the European Union to Canada and Edinburgh to Washington have barred politicians and officials from using the app on phones and tablets supplied by the state. Some, such as India, have gone a step further and barred it from public use in their country entirely.
Owned by Chinese firm ByteDance, TikTok is targeted at the international market. The parent company has a separate app that has an almost identical interface – but which does not share content with TikTok – for China called Douyin.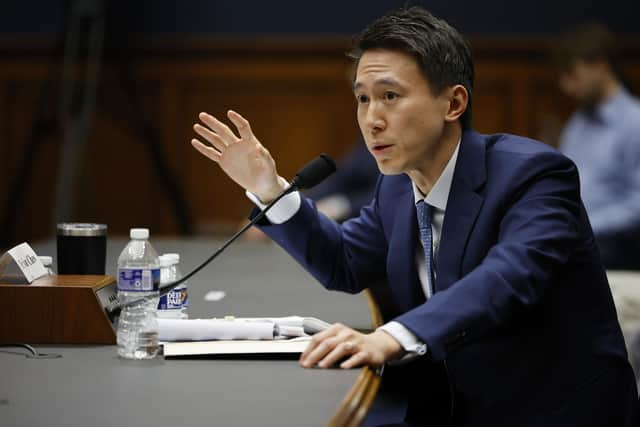 What happened in the US?
TikTok chief executive Mr Chew was questioned for five hours on Friday by lawmakers in Congress, who wanted to know more about the company's ties to the Chinese state.
However, Mr Chew began the session on the back foot, when just hours earlier, China said it opposed any sale of the firm – something that has been demanded by US president Joe Biden. It claimed doing so would involve exporting technology from China, which would require government approval.
Mr Chew, a former Goldman Sachs banker who has headed the company since March 2021, tried to convince politicians of TikTok's independence, pointing to investment by US firms such as BlackRock, KKR and Sequoia Capital.
"ByteDance is not owned or controlled by the Chinese government," he told Congress in response to repeated questions about whether the Chinese government could use the app to spy on Western users.
The US Government has said it would not rule out a blanket ban on the app. The chair of the Foreign Affairs Committee, Michael McCaul, described the app as a "spy balloon in your phone".
The committee previously voted 24 to 16 to give President Biden the power to enforce a national ban on the app. However, it is not clear if the move would stand up to legal challenges if the president decided to do so.
When quizzed about issues such as teen mental health, Mr Chew was forced to admit his own children do not use TikTok, but insisted that was because there is not a version of the app for under-13s in Singapore, where the family lives and where TikTok is headquartered.
What is the situation in Scotland – and the rest of the UK?
At the time, the Scottish Government said it had no immediate plans to do so. However, this week, it announced it would follow suit, saying the decision "follows engagement with the UK Government on the potential tracking and privacy risks from certain social media apps".
The BBC has urged their employees to delete TikTok from their phones, saying there were concerns over data privacy and security – unless there is a "justified business reason" to keep it.