Russia meeting: Kim Jong-Un offers 'full and unconditional support' for Russia's 'sacred fight' to Vladimir Putin
Kim Jong-Un and Vladimir Putin have met at the Vostochny cosmodrome, with the North Korean leader saying Pyongyang will always stand with Moscow
North Korean leader Kim Jong-Un has told Russian president Vladimir Putin his country offers its "full and unconditional support" for Russia's "sacred fight" to defend its security interests, in an apparent reference to the war in Ukraine.
Mr Kim said Pyongyang will always stand with Moscow on the "anti-imperialist" front and also called North Korea's relations with Russia "the first priority".
The leaders met at a remote Siberian rocket launch facility for a summit that underscores how their interests are aligning in the face of their countries' separate, intensifying confrontations with the United States.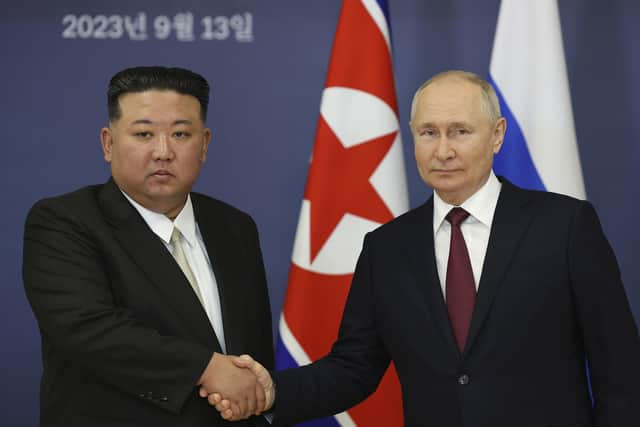 Mr Putin, in his opening remarks, welcomed Mr Kim to Russia and said he was glad to see him. Mr Putin listed economic co-operation, humanitarian issues and the "situation in the region" among the agenda items for their talks.
The two men began their meeting on Wednesday at the Vostochny cosmodrome with a tour of a Soyuz-2 space rocket launch facility, at which Mr Kim peppered a Russian space official with questions about the rockets.
Mr Kim and Mr Putin then met together with their delegations and later one-on-one, according to Kremlin spokesperson Dmitry Peskov. The meeting came hours after North Korea fired two ballistic missiles towards the sea, extending a highly provocative run in North Korean weapons testing since the start of 2022, as Mr Kim used the distraction caused by Mr Putin's war on Ukraine to accelerate his weapons development.
South Korea's joint chiefs of staff did not immediately say how far the North Korean missiles flew.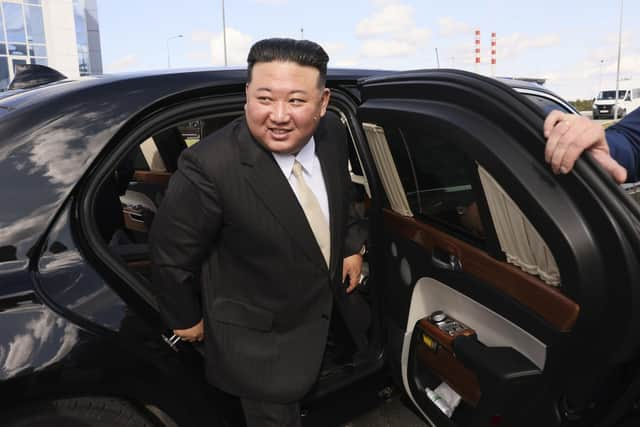 Japan's Coast Guard, citing Tokyo's Defence Ministry, said the missiles have probably already landed, but still urged vessels to watch for falling objects.
The decision to meet at the Vostochny Cosmodrome, Russia's most important domestic satellite launch facility, suggests Mr Kim is seeking Russian technical assistance for his efforts to develop military reconnaissance satellites, which he has described as crucial in enhancing the threat of his nuclear-capable missiles.
In recent months, North Korea has repeatedly failed to put its first military spy satellite into orbit.
Official photos showed Mr Kim was accompanied by Pak Thae Song, chairman of North Korea's space science and technology committee, and navy admiral Kim Myong Sik, who are linked with North Korean efforts to acquire spy satellites and nuclear-capable ballistic missile submarines, according to South Korea's Unification Ministry.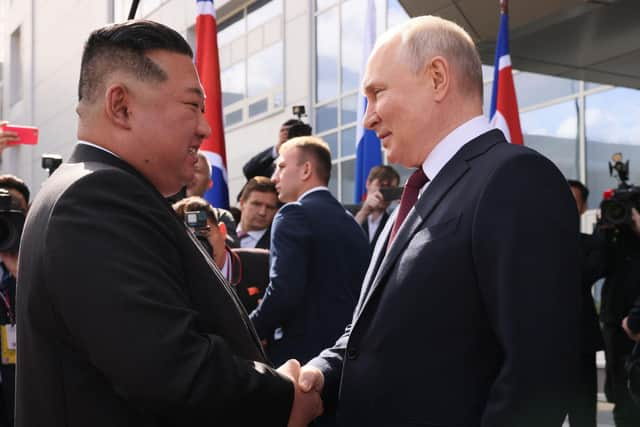 Asked whether Russia will help North Korea build satellites, Mr Putin was quoted by Russian state media as saying "that's why we have come here".
"The DPRK leader shows keen interest in rocket technology, they're trying to develop space, too," he said, using the abbreviation for North Korea's formal name, the Democratic People's Republic of Korea.
Asked about military co-operation, Mr Putin said "we will talk about all issues without a rush, there is time".
Mr Putin welcomed Mr Kim's limousine, brought from Pyongyang in the North Korean leader's special armoured train, at the entrance to the launch facility with a handshake that lasted around 40 seconds. Mr Putin said he was "very glad to see" Mr Kim.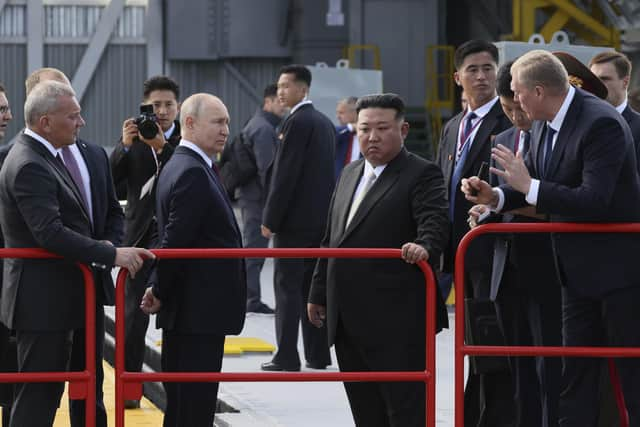 Mr Kim's translator thanked Mr Putin for the warm welcome, "despite being busy". For Mr Putin, the meeting with Mr Kim is an opportunity to refill ammunition stores that the war with Ukraine has drained.
North Korea may have tens of millions of ageing artillery shells and rockets based on Soviet designs that could give a huge boost to the Russian army in Ukraine, analysts say.
Mr Kim also brought Jo Chun Ryong, a ruling party official in charge of munitions policies who joined him on recent tours of factories producing artillery shells and missiles, according to South Korea.
Mr Kim said his decision to visit Russia four years after his previous visit showed how Pyongyang is "prioritising the strategic importance" of its relations with Moscow, North Korea's official news agency said.
Mr Kim is expected to seek economic aid as well as military technology.
Deputy foreign minister Andrei Rudenko said Russia may discuss humanitarian aid with the North Korean delegation, according to Russian news agencies.
An arms deal would violate international sanctions that Russia supported in the past.
Lim Soo-suk, South Korea's Foreign Ministry spokesperson, said Seoul was maintaining communication with Moscow while closely monitoring Mr Kim's visit.
"No UN member state should violate Security Council sanctions against North Korea by engaging in an illegal trade of arms, and must certainly not engage in military co-operation with North Korea that undermines the peace and stability of the international community," Mr Lim said at a briefing.
The United States has accused North Korea of providing Russia with arms, including selling artillery shells to the Russian mercenary group Wagner. Both Russian and North Korean officials denied such claims.
Speculation about their military co-operation grew after Sergei Shoigu, the Russian defence minister, visited North Korea in July.
Mr Kim subsequently toured his weapons factories, which experts said had the dual goal of encouraging the modernisation of North Korean weaponry and examining artillery and other supplies that could be exported to Russia.
Comments
 0 comments
Want to join the conversation? Please or to comment on this article.