Rockall adventurer reveals Desert Island Discs choices and his daily routine for island record bid
Rockall is just 25 metres wide and 31 metres long
A Scottish man undertaking a record-breaking attempt to live on a rocky outpost in the North Atlantic has revealed the Desert Island Discs-style selection he made before beginning his quest.
Chris "Cam" Cameron, a military veteran originally from Buckie, is aiming to stay on Rockall alone for 60 days in a fundraising bid for military charities. He has set up camp with a land pod on a ledge called Hall's Ledge, measuring around 1.5m by 4m, just below the peak of the 17m-high rock.
He said he had asked his support team, who stayed with him for the first three days, also to choose their "castaway" music and books before they left for the remote island last week – and had been "surprised" by their musical taste.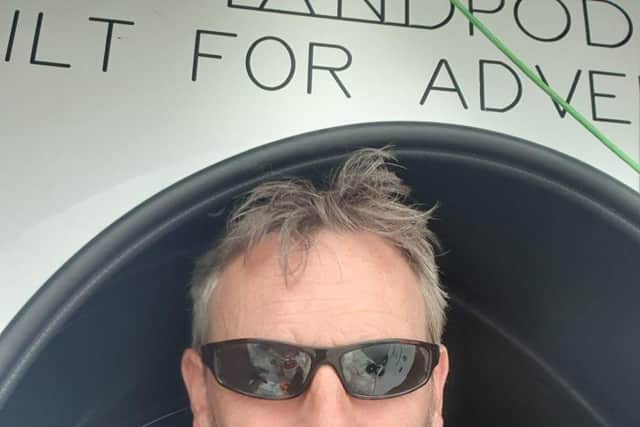 The hit BBC Four radio programme, now hosted by Lauren Laverne, has been broadcast since 1942 and interviews celebrities around their musical choices if they were to be cast away on a desert island.
Mr Cameron said his choice included Sailing by Rod Stewart, bagpipe piece Rockall Rising, Fisherman's Blues by The Waterboys and Raise the Titanic by John Barry.
Mr Cameron said he had chosen Cannery Row, by American author John Steinbeck, as his "desert island" book – and has taken a picture of his family as his luxury item.
He told The Scotsman how he is restricted to the tiny rocky ledge for the entire duration of his stay and is aware that any slip off the rock "will definitely be my last" due to the difficulty for any emergency rescue teams to reach him.
Rockall, which measures just 25m wide and 31m long at its base, is an uninhabitable granite islet in the North Atlantic ocean, with the nearest permanently-inhabited place being North Uist, in the Outer Hebrides, 200 miles to the east. It is outside the range of standard UK Search and Rescue helicopters.
Mr Cameron, 53, who arrived on Rockall on Wednesday last week with radio operator Adrian "Nobby" Styles and Emil Bergmann, a mountaineer and radio enthusiast who broadcast from Rockall during their visit, said some days he was restricted to the inside of his land pod – a special tent designed for remote, difficult conditions.
"I can't leave the ledge, it's too dangerous," he said. "I can't even go anywhere on the ledge today as everything is slimy and treacherous, so unless the sun comes out, it's a day inside the land pod.
"Every job takes four or five times as long, as I have so little space to work in and such a dangerous consequence if I slip. Any mistake like that will definitely be my last, so everything is done slowly and thoroughly."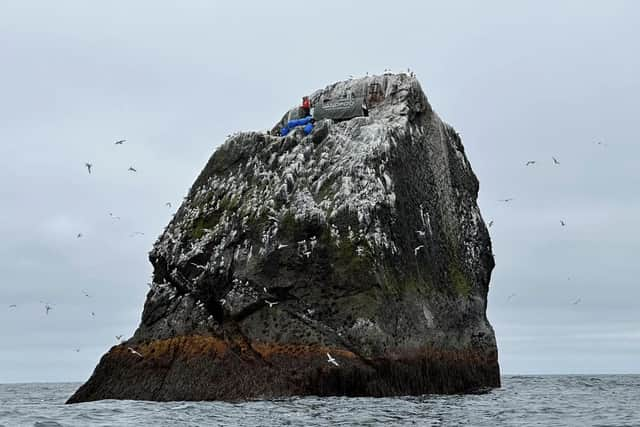 The trio made the 420-mile voyage by yacht from Inverkip on the Firth of Clyde. However, Mr Styles and Mr Bergmann stayed for just three days.
"I miss Nobby and Emil, just the company of other people," Mr Cameron said. "They were good company for me and it was important to have them both here."
More than 200 people have landed on Rockall, but only five have spent a night there. The record for the longest time spent on Rockall is held by by Edinburgh adventurer Nick Hancock, who had to abandon his mission after 45 days in 2014.
The United Kingdom claimed Rockall in 1955 and incorporated it as a part of Scotland in 1972. It is considered administratively to be part of the Isle of Harris. However, this claim is not accepted by Ireland.
Chris "Cam" Cameron's Desert Island Discs
2. Fisherman's blues- The Waterboys
3. Caruso- Andrea Bocelli
4. Once Upon a Time in the West - Ennio Morricone
5. Rockall Rising- pipe tune by Captain Stuart Sampson MBE
6. Raise the Titanic-John Barry
7. On Days Like These- Matt Monroe
8. Flower of Carnage- Meiko Katie
9. Unchained Melody- The Righteous Brothers
Here is Mr Cameron's daily routine, in his own words:"Wake early, usually around 6am due to the light. Check outside the window for weather.
Take air pressure and record that.
Recharge my VHF (radio) handset.
Strip off, wash with two wet wipes. Clean teeth. Roll up sleeping bag, dress. Go outside for a pee.
Fill jet boil with fresh water. Boil water, make porridge. Use left over water to make a coffee.
Check sea state swell and wind direction. Switch on Satellite terminal and check charge. Check WhatsApp.
Take off trousers. Put on climbing harness and boots.
Climb to the summit of Rockall to check for vessels
Go to the toilet over the cliff edge. Place toilet roll in the sealed barrel for return to shore. Wash hands.
Check the position of the landpod and check and secure all lines.
Take some photos, then daily work starts. I have much to do before the storms arrive.
The landpod is now secured with cargo straps, but the starboard rear leg is too low. The corrosive atmosphere here has seized it, so I need to get underneath the pod and oil the threads and slowly ratchet the leg up so the pod is level.
This involves loosening and tightening the straps inch by inch – it will take hours. Then I want to set up a tarpaulin, so that the gannets don't poo on me and the landpod and all my supplies.
That may be a job for another day. Strangely, it feels like 60 days won't be enough to get everything done."
Comments
 0 comments
Want to join the conversation? Please or to comment on this article.