Three men land on isolated Scottish island Rockall as 60-day survival challenge begins
Former soldier Cam Cameron is leading survival challenge on the rock, which sits 220 miles west of the Outer Hebrides
With the crackle of a radio transmission sent over the dark swell of the North Atlantic, safe landing of the team was confirmed.
A three-man expedition team has arrived on Rockall as a challenge by adventurer Cam Cameron to break a survival record on the islet, which sits around 220 miles west of the Outer Hebrides, gets underway.
Mr Cameron, a marine biologist, skipper and military trainer originally from Buckie, is aiming to stay on the rock – which measures just 21m long and 30m wide – for 60 days.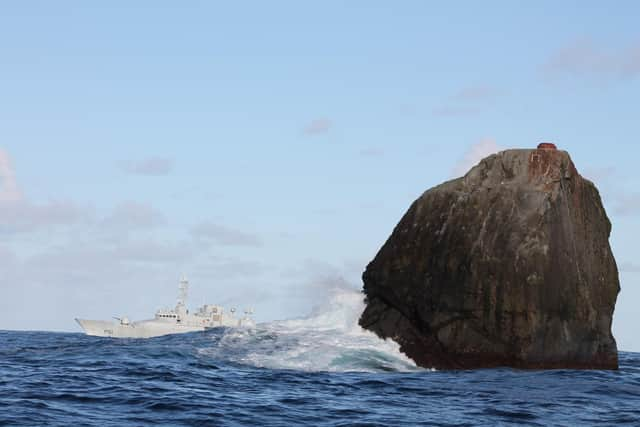 His hope is to comfortably break the 45-day record set in 2014 by Edinburgh adventurer Nick Hancock, who had to abandon his mission after gales swept away critical supplies.
Mr Cameron, like Hancock, will sleep in a plastic pod that will be tethered to a ledge on the rock. His expedition crew, radio operator Nobby Styles and mountaineer Emil Bergmann, will depart on Friday, leaving the Scot to face a long stretch of solitude in the most challenging physical conditions.
A radio message shortly after midnight on Wednesday morning confirmed the landing of the team, although it is understood one of the members got washed into the sea attempting to make land.
Col McGowan, who is co-ordinating communications during the expedition, said: "I spoke to Nobby and he said everyone is fine, all are safe and to pass that info on to family members.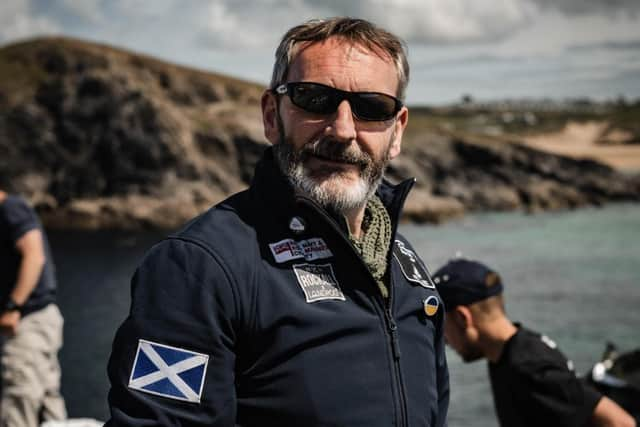 "Apparently the landing was very tough and a swell is still kicking about the island, but they did it. Nobby told me that Emil was 'lost' to the sea twice due to the swell, but is obviously OK. [They] are there until Friday. So to repeat – all are good, safe and well."
Radio transmissions from Rockall will be a major feature of the expedition, with more than 1,000 radio hams making contact with the team in the early hours of Wednesday.
Rockall is considered the "pinnacle" of ham radio broadcasts and is perhaps the rarest and most difficult of places to broadcast in the world, expedition organisers said.
Those who make contact with the team will be offered a Rockall "postcard" or QSL card, which serves as written confirmation of two-way radio contact being made. Each QSL card issued will help raise a target of £50,000 for the Royal Navy and Royal Marines Charity and the ABF The Soldiers' Charity.
Mr Cameron, who formerly served with the Gordon Highlanders, started planning the Rockall expedition during the Covid-19 lockdown, with the trip taking more than two years to come together.
More than 200 people have landed on Rockall, but only five have managed to spend a night there. Hancock has helped to mentally prepare Mr Cameron for the challenge, along with other adventurers Tom McClean and Al Baker.
Mr Cameron, a father-of-two, earlier said: "I've had really good advice from some wonderful people who have been there, done that and got the T-shirt – I'm really excited. It's done by so few people … 4,000 people have been to Everest, only five people have ever stayed for any length of time on Rockall."
Comments
Want to join the conversation? Please or to comment on this article.