Refugees arriving in UK on boats to be banned from right to claim asylum
Refugee charities have hit back at plans unveiled by Prime Minister Rishi Sunak to block anyone arriving in small boats from claiming asylum in the UK.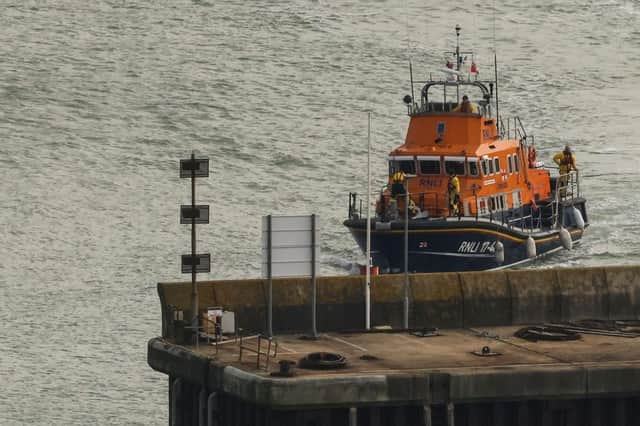 Mr Sunak vowed to put an end to the "immoral" illegal migration trade as the Government prepares to unveil new powers to crack down on small-boat crossings in the Channel.
Instead, anyone arriving in Britain through a non-agreed asylum scheme will be immediately shipped to another country – including Rwanda, where the UK Government last year made an agreement to send certain asylum seekers who arrived in the UK through non-legal routes.
The new legislation is expected to make asylum claims entirely inadmissible from those who travel to the UK on small boats. In December, four people died, and 39 were rescued, after a boat carrying migrants sank in the English Channel.
Sabir Zazai, chief executive of the Scottish Refugee Council, branded the move a "sustained and ugly attack on vulnerable people", while other charities warned that it was likely to have little effect on the number of people arriving in the UK through non-legal routes.
It would see a duty placed on the Home Secretary to remove "as soon as reasonably practicable" anyone who arrives on a small boat to Rwanda or a "safe third country". Arrivals will also be prevented from claiming asylum while in the UK, with plans also to ban them from returning once removed.
The bill is expected to be published on Tuesday.
Human rights campaigners said the move would not reduce deaths in the Channel and raised concerns about whether some of the policies are compatible with the European Convention on Human Rights.
Mr Zazai said: "Seeking asylum is a fundamental human right. We will fight all the way the UK Government's sustained and ugly attack on vulnerable people seeking sanctuary."
Christina Marriott, executive director of strategy at the Red Cross, called it "extremely concerning".
"The Home Office knows from its own research that this will also do little to prevent people risking their lives to seek safety. Again and again, we hear from people that they have no prior knowledge of the UK's asylum system, so making it harsher is not an effective strategy," she said.
Sonya Sceats, chief executive at Freedom From Torture, called the proposals "vindictive and dysfunctional".
"This legislation will do nothing to reduce the number of deaths in the Channel or the chaos and incompetence that blights our asylum system, nor will it guarantee sanctuary for those who need it," she said.
"Instead, it will lead to more torture survivors being unfairly denied protection and potentially removed to Rwanda."
Mr Sunak said the new powers are a step towards fulfilling his pledge to "stop the boats once and for all".
He said: "Illegal migration is not fair on British taxpayers, it is not fair on those who come here legally and it is not right that criminal gangs should be allowed to continue their immoral trade.
"I am determined to deliver on my promise to stop the boats. So make no mistake, if you come here illegally, you will not to be able to stay."
Ms Braverman said: "Enough is enough. The British people want this solved. They are sick of tough talk and inadequate action. We must stop the boats.
"That's why myself and the Prime Minister have been working flat out to bring forward necessary and effective laws which will tackle this problem, once and for all. It has to be that if you come here illegally you will be detained and swiftly removed.
"Our laws will be simple in their intention and practice - the only route to the UK will be a safe and legal route."
The Prime Minister has made "stopping the boats" one of his five priorities, while Ms Braverman has repeatedly promised to take a hard line on illegal migration and Channel crossings.
Last year, a controversial scheme to send asylum seekers who arrived in Britain through "illegal" means, to Rwanda for processing, was postponed at the 11th hour following a European Court of Human Rights ruling just hours before the first flight was due to take off in June.
The latest Home Office figures show 2,950 migrants have crossed the Channel already this year.
Mr Sunak has been under considerable pressure from his own backbenches to tackle illegal migration.
Comments
 0 comments
Want to join the conversation? Please or to comment on this article.