However, while most countries have opened their doors to Ukrainians fleeing conflict at home, the situation is not always as straightforward for people attempting to escape persecution and fighting in places such as Afghanistan or Syria.
Here, in the final part of our series comparing policies and systems in Scotland and the UK to other countries, we take a look at immigration strategies around the world.
Figures from the United Nations refugee arm, UNHCR, show last year the number of people forced to flee their homes and living somewhere else now exceeds 100 million people. Meanwhile, the number of people overall living in a different country – including for other reasons, such as work or study – stands at close to 300 million.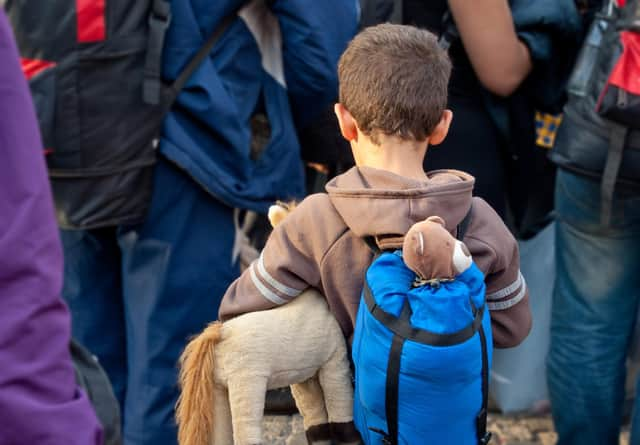 The UK Government has come under fire for many of its recent immigration strategies. Last year, a controversial scheme to send asylum seekers who arrived in Britain through "illegal" means, such as on boats crossing the Channel, to Rwanda, was postponed at the 11th hour following a European Court of Human Rights ruling just hours before the first flight was due to take off in June. However, former home secretary Priti Patel made it clear the Government plans to resurrect the scheme, which would see refugees deemed to be eligible for asylum allowed to live not in the UK, but in Rwanda, as soon as possible.
Brexit has also meant the hundreds of thousands of Europeans who came to the UK for work every year are no longer allowed to live and work visa free in Britain. As a result, there was a significant drop in arrivals, with just 43,000 EU citizens receiving visas for work, family, study or other purposes in 2021. Recent figures from the Scottish Government showed the number of students from the EU who took up a place at a Scottish university fell by 16 per cent over the past academic year.
Emilia Pietka-Nykaza, senior lecturer in the School of Education and Social Sciences at the University of the West of Scotland, says: "When I think about immigration policy, what we need to ask ourselves is for whom is it doing right and how do we measure success?
"It depends whether you are looking at immigration for economic reasons – students and business – or refugees. Essentially, if you are born in Singapore, have an engineering degree and a large amount of savings behind you, you can probably move almost wherever you want in the world. If you are from Sudan, have the same degree, but no money, it is more difficult."
While it is undoubtedly difficult to measure immigration success, The Center for Global Development [CDG] attempts to do just that.
Its annual Commitment to Development report ranks 40 of the world's richest countries according to its policies shaped to help poorer nations across the globe.
While the UK scores highly overall, ranking in fifth place due to its security and development finance and trade – albeit before recent cuts in overseas aid by Westminster – it comes just 26th in the migration category, close to Japan in 28th place – a country that has one of the most closed immigration policies in the Western world.
The CDG's most recent survey, for 2021, found Sweden scored highest in terms of migration. At that time, Sweden welcomed the second largest number of refugees and scored highest on its integration policies. Turkey was ranked in second place by hosting the largest number of refugees relative to its population, almost ten times the CDI average. Chile rose 18 places to third, driven by large migrant inflows from Venezuela and Haiti.
Since the invasion of Ukraine, more than 10 million people have left the country in search of safety. Bordering countries such as Poland, which has a population of just 37 million, have taken the brunt of the high numbers of Ukrainians seeking asylum, with more than 1.5 million recorded as living there. However, Germany has also taken in more than one million Ukrainians. The number recorded in the UK, however, is around 150,000.
Within Europe, Germany has in recent years been regarded as a beacon of welcome for those looking for a safe place to live.
Years before the Ukrainian refugee crisis, Germany was one of the few countries which opened its doors to refugees from the Middle East, at a time when Europe was suddenly inundated by an influx of people fleeing war in Syria – and poverty and persecution in Afghanistan and Iran.
This summer, Germany unveiled plans for a new policy that allows migrants who have been denied asylum, but cannot be deported, a path to citizenship. The proposals, which apply to people who have been living in Germany for at least five years, could see around 130,000 people granted a "right of opportunity to stay" lasting for one year. After that, if those people can prove they have a reliable source of income and a sufficient command of the German language, they will be granted official permanent residency.
Usman Aslam, an immigration lawyer at Mukhtar and Co in Glasgow, says while some countries have laws which benefit other migrants – such as people who may want to study or invest in business in their destination country – others are more open to refugees fleeing persecution or war.
"It might be easy to say Canada is great, but that's arguably for students, business opportunities etc," he says. "But for a refugee, it might be Germany, which has a great welfare programme and also they have just announced an easier and quicker path to citizenship for asylum seekers – whilst we are going backwards in this regard."
Germany has also been praised for policies which open up opportunities for people to move to the country for work from outside the EU.
The new Skilled Immigration Act expands the number of opportunities for qualified, vocational professionals from non-EU countries to work in Germany.
"Germany seems to look inwards and ask what their economy needs, then shapes its policies round that," adds Aslam. "They appear to be opening up to people wanting to work, as they have an ageing population."
Germany has one of the largest refugee intakes in the world. In 2015 and 2016, the country agreed to take in one million refugees over and above their usual quota. However, this was a U-turn from policy in the late 1990s and early 2000s, when immigration was much more stringent.
A system known as Konigssteiner Schlussel ensures the refugee population is shared across different regions of the country.
"Studies have shown that within a few years, the integration, through the willingness of the German people, has been outstanding," says Aslam. "Employers in those regions had up to 50 per cent more refugee employees, and moreover, Germans got involved in helping integration, through support work and financial help.
"Asylum seekers can apply to work passing a labour market test after three months, rather than in the UK, where they have wait usually for around 12 months and even then they cannot fulfil the criteria in the shortage occupation list."
Aslam adds: "Germany sees refugees as assets, not a hindrance."
The CDG report says labour mobility "can be a powerful tool for poverty reduction", adding it ranks countries higher for welcoming migrants from poorer nations, receiving a high share of female migrants, accepting refugees, embracing sound migrant integration policies, and joining international conventions protecting the rights of migrants.
"By migrating to richer countries, workers can increase their productivity and earn higher incomes," the report says. "Migrants send billions of dollars home each year, a flow that surpasses foreign aid."
Indeed, outgoing migration can have both a beneficial and detrimental effect on countries.
A recent report found the population of former Soviet nation Moldova, one of the poorest countries in Europe, now stands at just 2.5 million – almost halving in the years since the fall of Communism in 1989. The fall is likely to be driven by millions of younger people moving away to work in foreign countries. However, most of those workers send back money to relatives and friends at home.
Official figures show a total of $1.91 billion [£1.5bn] was "remitted" – sent back to Moldova from abroad – in 2019. The amount, which is 16 per cent of its GDP, puts Moldova in the top 20 of the most remittances-dependent countries in the world.
While there is increasing pressure from agencies such as UNHCR for richer countries to open up, not all nations are open to this.
In Austria, where immigration became a major issue for debate since the election of a far-right party into coalition government in 1999, permanent residents must live in the country continuously for a period of ten years before being eligible to apply for citizenship. If approved, applicants must renounce any other citizenship.
Japan, in particular, has very low immigration and stringent policies. Only around 3 per cent of Japan's population is foreign-born, compared to 15 per cent in the UK. In 2018, out of almost 10,500 asylum seekers, just 42 were granted leave to remain. In comparison, in Germany and Canada, around 40 per cent of asylum applications are approved. In Japan, the number averages 0.2 per cent.
Canada, in contrast, has launched revolutionary policies in a bid to reach its target of 450,000 new permanent residents by the end of this year. A recent Gallup poll ranked it as the country which is the most welcoming for foreigners. Canadian authorities have said future Express Entry draws – in which profiles are ranked against each other according to a points-based system – could include those aimed at specific occupations in a bid to tackle skills shortages.
Aslam, however, warns the UK's immigration process, even for short-term visits, is garnering a poor reputation around the world. The Rwanda policy for asylum seekers echoed some schemes introduced by Australia, where "tough on borders" has long been an election mantra among politicians. Since July 2013, the Australian government has transferred more than 3,000 asylum seekers and refugees to offshore camps in the countries of Papua New Guinea and Nauru.
Aslam recalls a recent conversation in a bar in Beirut with a business owner who had tried to get a short-term visa to attend a wedding in Scotland.
"The bartender, and a few round me, upon asking what I do for a living, said they would never apply for a visa for the UK or Australia ever again as it was humiliating," he says.
Sarah Kyambi, director at Migration Policy Scotland, said while some other countries' policies may appear attractive on paper, the reality may not measure up.
"Sometimes I hear about something and I think it sounds great and then I speak to a colleague in that country, or someone who has been through the immigration process there, and they tell me there is this problem, or that," she says.
"One of the things that makes this very difficult at the moment is that we're in very divided times [globally] and we have a lot of heated conversation about this issue, which makes it difficult."
However, Kyambi says policy makers need to keep in mind the human reality of those who are at the behest of their policies.
"It's not just about migrants bad, or migrants good, or migrants as units of work in the economy," she says. "It's about the fact that people are going to move between countries and people are very complex beings."