Migrant crisis UK: Would Sir Keir Starmer pledge to 'smash the gangs' stop illegal migration?
Labour leader Sir Keir Starmer claimed his government would be 'twice as ruthless' to secure borders
It is a bold package of migration reforms which would see Britain once again working closely with the European Union and scrapping controversial bans on asylum applications from "illegal" arrivals. A tough new attitude to people traffickers which would see them treated like "terrorists" has also been pledged.
"My Labour government will be twice as ruthless, to smash the gangs and secure British borders," he said in an interview unveiling his policies as he embarked on a series of international visits.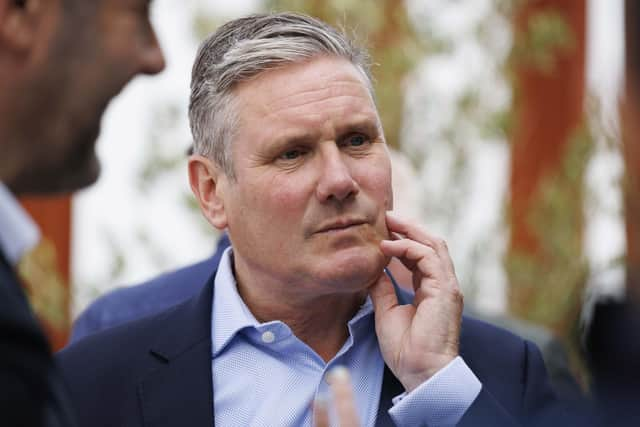 The suggestion of a post-Brexit "quid pro quo" deal with the EU has, not unexpectedly, angered some Conservative MPs, who say the policy would allow the UK to become a "dumping ground" for Europe's migrants. The issue will also be regarded as an incremental roll back of the separation created by Brexit.
In a move aimed at blocking gangs who bring asylum seekers from the Middle East and Africa to the UK on small boats, Sir Keir said, if elected, he wanted to give the National Crime Agency more powers and treat these gangs in the same way that law enforcement treats terrorists. He said he would expand the use of "serious crime prevention orders", which can restrict an individual's movement and operations, and freeze assets. More British officers would be stationed in Europe under the plans, with a "cross-border police force" focused solely on disrupting criminal gangs.
The migration policy announcement marks the beginning of a packed couple of weeks for Sir Keir, who is looking to raise his profile on the international stage ahead of next year's general election.
The Labour leader visited the Hague on Thursday, where he held meetings with EU's Europol law enforcement agency. Afterwards, he was due to travel to Canada, where he will hold talks with with centre-left politicians about approaches to migration. He is seeking a security agreement that would include real-time intelligence sharing, a cross-border police unit and joint operations.
Sir Keir is also set to meet French president Emmanuel Macron at the Elysée in Paris next week to forge even closer ties with a leader with whom observers have already claimed he has a "bromance".
The Labour leader wants to scrap controversial plans to send asylum seekers who enter the country "illegally" to Rwanda for processing – and ultimately, if their application is granted, settlement – branding the system "inhumane". The existing Hovernment continues to doggedly pursue the £140 million policy, despite opposition from many quarters, including the European Court for Human Rights, which blocked the first planned flight last year.
Sir Keir has suggested he is likely to discuss the idea of joining a "returns agreement" with the European Union – something that Britain would have been party to if it had not left the bloc.
"We effectively exited the returns agreement we were in and have never replaced it," he said. "The first job is to secure the borders and make sure we are the ones determining who comes to this country."
Under the scheme, all EU countries would be bound to accept a quota of 30,000 asylum seekers annually – or pay more to other members. In return, Britain would be able to return migrants to EU countries from where they had been before. There were 81,130 asylum applications made to the UK last year.
Sir Keir will be hoping that his more cordial relationship with the EU could thaw the rift since Britain's exit. Prime Minister Rishi Sunak last month admitted Brussels was "not envisaging" any kind of similar agreement with the UK "right now".
More than 23,000 people have attempted to land in the UK through small boat Channel crossings already this year. Many have already passed through EU countries on their journey from countries such as Iran, Syria or Afghanistan before attempting to reach the UK.
The "stop the boats" issue has been a major focus of the current Conservative government at Westminster, which has implemented new rules under the Illegal Migration Bill. These rules mean anyone who arrives in Britain through "illegal" means such as on a small boat, rather than a recognised route of immigration, will forfeit the right to apply for asylum and will be immediately returned.
Sir Keir branded the Bill "unsustainable" and said he would scrap it under his reforms. However, he admitted he agreed with the Tory Government that politicians "have to do everything we can to stop people crossing the Channel in small boats".
Instead, he said his plan would "stop boats getting in the water in the first place".
He said Labour would allow people to claim asylum under an expedited process in a bid to clear the backlog that has left thousands of asylum seekers living in limbo in hotels and other forms of temporary accommodation such as ships.
"Simply saying to people you can't be processed is an unsustainable system," he said. "And you can see what's happening. Hotels everywhere, absolutely full of individuals who haven't had their claim processed. We have to process the claims. Those who aren't entitled to be here should be returned, and returned quickly."
His aims to crack down on people trafficking gangs are unarguably laudable. However, the issue is hugely complex and would involve a high level of co-operation between countries, not just in Europe, but across the world.
"The sort of operation you need to deal with terrorism is the sort of operation you need for this," Sir Keir said. "Very few terrorist operations are within one nation. They are nearly all cross border."
Comments
 0 comments
Want to join the conversation? Please or to comment on this article.