MPs urged to reject Bill that will ban people from claiming asylum after arriving in UK
Human rights and refugee charities urged MPs to reject a Bill that seeks to ban people from claiming asylum after arriving in the UK, as the legislation was set to receive its final reading in Parliament.
Immigration minister Robert Jenrick told MPs the majority of people arriving through "illegal routes" such as on small boats crossing the Channel, were "essentially asylum shoppers", ahead of the third reading of the Illegal Migration Bill in Westminster.
If the Bill is passed, anyone arriving in Britain through a non-agreed asylum scheme will be immediately shipped to another country, including Rwanda, where the UK Government last year made an agreement to send certain asylum seekers who arrived in the UK through non-legal routes.
The new Bill is expected to make asylum claims entirely inadmissible from those who travel to the UK on small boats. It will also put a duty on the home secretary to detain and deport anyone who enters the country illegally.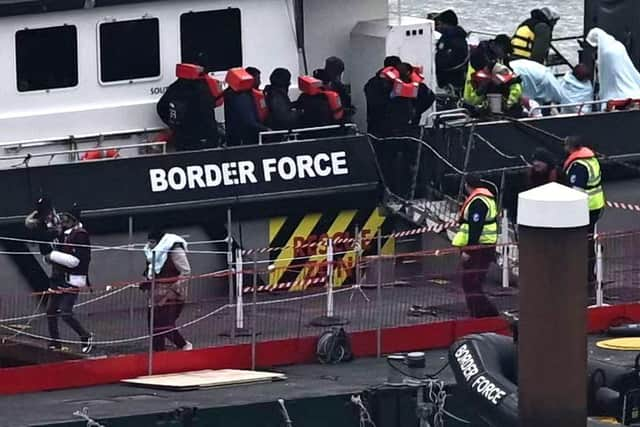 Refugee groups have warned the Bill will "scapegoat refugees", while a group of organisations working to protect refugee victims of sexual and gender-based violence have written a letter to all major UK political parties, calling for reforms.
This comes as the United Nations refugee arm, UNHCR, said "public statements" suggesting that refugees who want to apply for asylum in the United Kingdom should do so via the UNHCR offices in their home region was false.
"UNHCR wishes to clarify that there is no mechanism through which refugees can approach UNHCR with the intention of seeking asylum in the UK," the body said. "There is no asylum visa or 'queue' for the United Kingdom."
It said the "overwhelming majority" of refugees do not have access to the UK, with only around 100 people a month accepted through extremely limited official resettlement programmes which involve UNHCR.
Mr Jenrick, speaking during the report stage of the Illegal Migration Bill, told MPs: "Illegal migration undermines the integrity our immigration system. It puts an unsustainable pressure on our housing, health, education and welfare services and it undermines public confidence in our democratic processes and the rule of law.
"That's why we want to stop the boats and secure our borders, and this Bill is dedicated to that goal. It will send a clear message that if you enter the UK illegally, you will not be able to build a life here."
He added: "The vast majority of those individuals coming on small boats are coming from an obvious place of safety in France with a fully functioning asylum system, so they're choosing to make that additional crossing.
"They are essentially asylum shoppers, even if they ultimately came from a place of danger and they're doing that because they believe the UK is a better place for them to make their claim and to build a future."
The signatories of the letter to politicians included representatives from JustRight Scotland, the University of Birmingham, Freedom from Torture, British Red Cross, Doctors of the World, Women's Aid, Southall Black Sisters, and other organisations working to fight violence against women and girls.
Sabrina Galella, policy officer at JustRight Scotland, said: "The Illegal Migration Bill is effectively an asylum ban – it will protect traffickers and punish survivors. If passed, it will remove existing protections for victims of forced migration and sexual and gender-based violence. This Bill will undoubtedly trap countless victims of modern slavery and human trafficking into indefinite exploitation by denying them the right to say they are a victim of crime. It will prevent victims from accessing mechanisms of safety through which people can escape exploitation.
"This Bill is unworkable - it will only cause suffering and put further lives at risk."
The Scottish Refugee Council said the refugee system in the UK was failing, pointing out only 1 per cent of the small boat arrivals in 2022 were processed by the end of the year.
Chief executive Sabir Zazai said: "While the Government uses hostile language to scapegoat refugees and people seeking asylum, the real issue is a complete failure of the UK Government to invest in a well-functioning responsive asylum system."
Think-tank the IPPR said even Afghans, who had a solid claim for asylum following the withdrawal of British troops from Afghanistan two years ago and the subsequent takeover by the Taliban – who arrived in the UK through non-legal routes would be refused asylum.
Comments
 0 comments
Want to join the conversation? Please or to comment on this article.