Measles outbreak in Sudan refugee camps kills 1,200 young children
The fighting has already displaced over 800,000 people inside Sudan
Measles outbreaks in camps in Sudan have killed more than 1,200 refugee children aged under five since May.
The United Nations refugee arm, UNCHR and the World Health Organisation (WHO) said the young children had died in nine camps in the conflict-hit country in the period between May 15 and September 14.
They said the deaths had been caused by a "deadly combination" of a suspected measles outbreak and high malnutrition. More than 3,100 suspected measles cases were also reported in the same period and more than 500 suspected cases of cholera have been reported in other parts of the country, along with outbreaks of dengue and malaria.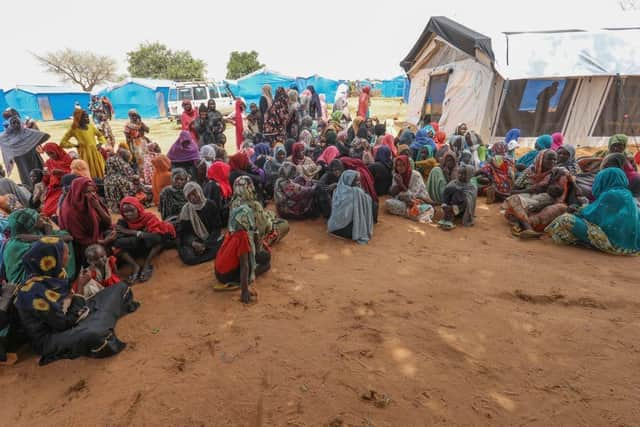 More cases of the disease have been found in young children who have fled Sudan – mainly the White Nile region – to Renk, in South Sudan. Across South Sudan, 142 deaths have been reported and over 5,770 suspected cases. Children younger than five are worst impacted, accounting for nearly 70 per cent of all cases and 76 per cent of all deaths.
Half of the affected children were unvaccinated against measles, highlighting gaps in immunisation. Measles vaccinations have been provided by humanitarian organisations for more than 45,000 children under five in the camps in Blue and White Nile states.
Meanwhile, in South Sudan, where many Sudanese refugees have fled, an average of 103 children a month were admitted to health facilities for moderate or severe malnutrition between May and July, up from 14 total admissions before the conflict.
In April, a violent conflict broke out between two opposing sides, the nation's regular army and paramilitary force the Rapid Support Forces (RSF).
United Nations High Commissioner for Refugees Filippo Grandi said: "The world has the means and the money to prevent every one of these deaths from measles or malnutrition. And yet dozens of children are dying every day – a result of this devastating conflict and a lack of global attention. We can prevent more deaths, but need money for the response, access to those in need, and above all, an end to the fighting."
WHO said in a recent screening exercise in Chad that nearly 13,000 children younger than five were found to be acutely malnourished. The number of children with malnutrition being admitted to hospitals has increased by 56 per cent across the province of Ouaddai, which is hosting more than 80 per cent of the refugees, since the beginning of the conflict in Sudan.
The high prevalence of malnutrition among incoming refugees reflects the "very dire" situation of the people in Darfur, fleeing across to Chad. In addition, acute respiratory infections, diarrhoea and malaria remain the three most frequent illnesses among children. Access to clean drinking water is also a major challenge, with families only receiving five litres per person, only one-third of what is recommended.
WHO director general, Dr Tedros Adhanom Ghebreyesus, said: "Local health workers, with the help of WHO and partners, are doing all they can in very difficult conditions. But they desperately need the support of the international community to prevent further deaths and the spread of outbreaks. We call on donors to be generous and on the warring parties to protect health workers and access to health for all those who need it."
Comments
 0 comments
Want to join the conversation? Please or to comment on this article.