Sudan evacuation: Edinburgh family says they have been 'abandoned' in Sudan by British Government
A family from Edinburgh has revealed how they are trapped in Sudan amid fierce fighting in the war-torn African country.
Amal Osman and his wife Faatima were visiting family in a town 15 miles north of the capital Khartoum when fighting broke out between the nation's regular army and paramilitary force the Rapid Support Forces (RSF).
In an interview with the BBC, Mr Osman said he had had no support from UK authorities to help him evacuate. British diplomats and their families were taken to safety at the weekend. However, the Foreign and Commonwealth Office (FCO) has not yet started evacuating other British nationals in the country.
The British Government has said UK nationals in Sudan should stay indoors and await further information.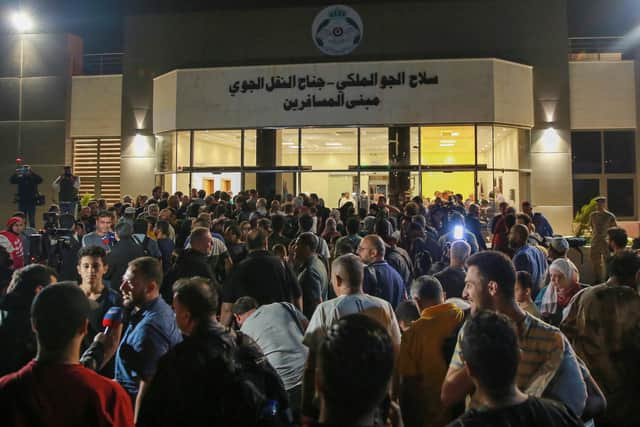 "Scary, very scary," said Mr Osman. "Heavy fighting just started now and it's close by. I think the fighting is on my street now, very, very close."
The couple, who were visiting their mothers and Ms Osman's sister in Sudan, said they had been asked to fill out a form on the Embassy website – but had had no direct contact from officials. They are now considering organising their own evacuation.
"There is a form on the website, I've filled that in and I've received an email saying they've received my form, but nothing else," he said. "It's an auto reply. I'm thinking we'll have to evacuate because things are getting really bad, they're getting worse by the minute.
"We're thinking to evacuate by road to Egypt. I'm doing all that myself. I'm trying to get the money together and all my family. It's frustrating."
Ms Osman said: "We feel abandoned. It's very traumatising here and the situation here is very bad and it's getting worse. You see the flash and hear the fighting and everyone is just trying to escape and flee the country and you see the country is really getting into a civil war."
One estimate said up to 4,000 UK citizens could be stranded in the conflict-hit nation. Foreign Office minister Andrew Mitchell said the Government was doing "everything we can" to get British nationals out, but dampened hopes of it happening before a ceasefire.
He defended the prioritisation of embassy staff, saying there had been "a very specific threat to the diplomatic community" in Khartoum.
Alicia Kearns, the Tory chairwoman of the Commons foreign affairs committee, called for the focus to now shift to getting UK civilians out "because there is no imminent sign of a ceasefire".
"The reality is we have to get British nationals out," she said. "If, however, there was to be no evacuation because it's too dangerous ... then we have a moral obligation to tell British nationals as soon as possible that that is the judgment that has been made because they then need to be able to make their own decisions."
Meanwhile, other nations have rushed to evacuate their citizens. The European Union's foreign policy chief Josep Borrell said more than a thousand people have been extracted through the combined efforts of member states.
Around 50 Irish citizens have been evacuated from Khartoum to Djibouti with the support of France and Spain, with more evacuations planned, deputy premier Micheal Martin said.
Comments
 0 comments
Want to join the conversation? Please or to comment on this article.