Joe Biden Xi Jinping meeting: Why US president is more likely to pilot Chinese spy balloon than back down on Taiwan, despite successful meeting with Chinese leader
The leaders, Joe Biden and Xi Jinping, met for the first time in a year
In the footage of US president Joe Biden and Chinese leader Xi Jinping strolling in the grounds of Filoli Historic House in California after their meeting, the pair look very relaxed.
In fact, both hailed the summit, their first face to face meeting in a year, a success. It came just months after relations between the two appeared to have hit an all-time low, when the US in February shot down a suspected Chinese spy balloon over its air space.
"The door of China-US relations cannot be closed again now that's open," proclaimed Mr Xi, calling the relationship between China and the US "the most important bilateral relationship in the world". "We need to build more bridges and pave more roads between each other," he said.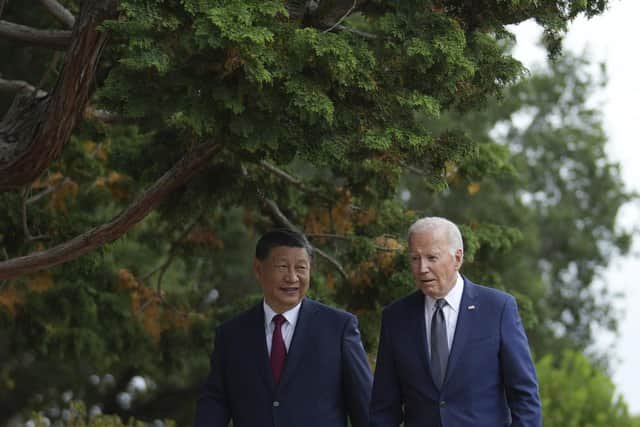 The pair discussed the importance of world peace – restoring military communications between the two super powers – hinted at Chinese action on climate change and even on artificial intelligence (AI), on which Mr Biden himself said the talks had included "tangible steps in the right direction to determine … what's dangerous and what's acceptable".
"For two large countries like China and the United States, turning their back on each other is not an option," Mr Xi added. "It is unrealistic for one side to remodel the other, and conflict and confrontation have unbearable consequences for both sides."
However, the latter comment had a hint of warning about it. For, under the surface of smiles and handshakes, there remained a number of sticking points. The most significant is Taiwan, which Mr Xi described as "the biggest, most dangerous issue in US-China ties".
A separate predictable glitch in the newly-forged bromance came when Mr Biden was asked by a reporter after the talks about Mr Xi's status as a "dictator".
"He's a dictator in the sense that he is a guy who runs a country ... based on a form of government that is totally different from ours," he said, sparking a response from China's foreign ministry the description was "extremely wrong" and "irresponsible political manipulation".
Taiwan, however, is set to remain a major issue between the two nations, whether Mr Biden remains in the White House or not.
Mr Xi told Mr Biden unequivocally the US should not support "Taiwan independence" and should stop arming Taiwan, with which he said his country wanted a "peaceful reunification". However, he also insisted this reunification was "unstoppable".
The problem is, there is more chance of Mr Biden piloting his own Chinese spy balloon than there is of the White House backing down on Taiwan.
Interestingly, the same goes for former president Donald Trump, who is likely to be Mr Biden's rival in next year's presidential elections. Taiwan is one of the few Trump-era foreign policies that Mr Biden has not reversed.
During his time in power, Mr Trump accepted a congratulatory phone call from Taiwanese president Tsai Ing-wen and later signed legislation that encouraged the US to send senior officials to Taiwan to meet their counterparts there.
It is a stalemate that neither side wants to admit amid a mood of more cordial relations, although Beijing's interpretation of the meeting portrayed Mr Xi as taking a tough stance on the issue.
The US president, however, did make one move that undoubtedly left Mr Xi indebted to him, when he reminded the Chinese leader his wife's birthday is on Monday – the same day as Mr Biden's – which Mr Xi admitted he had forgotten.
That, surely should give him some leverage on Taiwan.
Comments
 0 comments
Want to join the conversation? Please or to comment on this article.