Is Ukraine losing international support as Poland says it will no longer supply weapons?
Poland has said it will stop transferring weapons to Ukraine
It is a row over grain supplies which has seen relations between Ukraine and one of its staunchest allies – and nearest neighbours – sink to the lowest level since the Russian invasion began.
Now, Poland has signalled a major change in its relations with Kyiv after announcing it will stop transferring any more of its weapons to Ukraine to support its war effort - and will instead invest in more modern weapons for its own security.
Polish Prime Minister Mateusz Morawiecki insisted the decision was not linked to a growing row over grain exports and said the move will also not affect weapons transfers through Poland.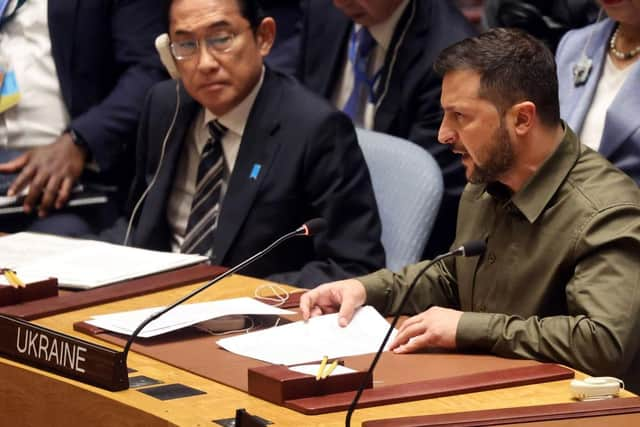 However, experts say the distancing by Poland - which has hosted more than a million Ukrainian refugees and shares a border with Ukraine - is the latest sign that support for Volodymyr Zelensky's government is showing signs of fatigue.
"What you're finding is there is no end in sight at the moment," says Luke March, deputy director of the Princess Dashkova Russian Centre at the University of Edinburgh, pointing to the slow progress of Ukraine's counter offensive.
"The Ukraine euphoria has gone a little bit and while there's broad support generally, where there are things which are specifically affecting certain countries, these are becoming a bit more contentious."
In Poland, where a general election is looming later this year, politicians fear public backlash against any economic cuts as a result of supporting Ukraine in the invasion.
Mr Morawiecki claims the ban on Ukrainian grain is to protect the interests of Polish farmers, who blamed cheaper Ukrainian imports for a slump in prices in local markets. The European Union placed restrictions on grain imports in certain countries, including Poland, earlier this year, but last week said those would come to an end.
The issue has sparked a war of words between Warsaw and Kyiv.
Ukraine has made a formal complaint to the World Trade Organisation over the grain row and warned that the "political theatre" benefited Moscow.
In response, the Polish government told Ukraine's ambassador in Warsaw that putting pressure on Poland in multilateral forums or sending complaints to international tribunals "are not appropriate methods of resolving disputes between our countries".
"The support is not really fracturing, but the strain is there," says Prof March. "The costs are building up without any sense of when it is going to end and there are some politicians who are beginning to get a bit nervous.
"There's a danger that Zelensky's style, the things that have been suppressed, will now become more of an irritant to leaders. However, Zelensky will say the actions of Russia are having an impact on the remaining Ukrainian economy, so he feels that if people have pledged to support him against Russia, these kinds of actions aren't consistent. There is a bit of truth on both sides."
However, the cost of war is not the only issue jarring with Western leaders.
In recent weeks, Ukraine has stepped up its assault against Russia, moving gradually away from defending its own land to attacks on Russian soil – or even Russian interests further afield. In Moscow alone, there have been six strikes, including one on the Kremlin in May. Ukraine has not taken responsibility for these attacks, but has also failed to deny them.
An analysis by the New York Times recently found at least three different Ukrainian-made drones have been used in attacks inside Russia, while a source told US news channel CNN that Ukrainian special services were likely behind a series of drone strikes and a ground operation directed against a Wagner-backed militia in Sudan, Africa.
Ukraine has carried out separate strikes on Crimea, which was annexed by Russia in 2014.
Prof March believes that the drone attacks may have prompted a reprimand for Mr Zelensky from Western allies, even though he believes world leaders may have privately supported military action towards Crimea.
"The drone attacks are where you have a situation where there is definitely a lot more caution about whether Ukraine has overstepped," he says. "It's part of the same rationale of sowing the doubt in the military hierarchy and in the population.
"But the risk reward ratio is slightly different there - that could easily go wrong and it's not going to achieve anything militarily. If any advice has been given, or any reprimands or concerns being raised, the thinking would be that that was counterproductive."
On Wednesday, at a meeting of the United Nations General Assembly in Washington, Mr Zelensky called on the UN Security Council to broaden its membership and remove Russia's veto power.
While in the US capital, Mr Zelensky was denied the chance to address Congress. The House, which had previously been under Democrat control, now has a Republican majority. A Republican win in next year's presidential election could be catastrophic for Mr Zelensky.
"Was Zelensky elected to Congress? Is he our president? I don't think so. I have questions for where's the accountability on the money we've already spent? What is this the plan for victory?" House speaker Kevin McCarthy asked ahead of the Ukrainian leader's visit.
Not all Republicans agreed.
Representative Don Bacon of Nebraska, said Mr Zelensky needed to be given the chance to persuade sceptics to change their minds.
"His country's a victim; Russia's the invader," Mr Bacon said. "To me I have total moral clarity that we should stand by Ukraine. So I just think if he speaks, if he can persuade a few people, it's worth it."
Comments
 0 comments
Want to join the conversation? Please or to comment on this article.