Fourth place world championship finish for Scottish ice dancer Lewis Gibson and partner Lilah Fear
Scottish ice dancer Lewis Gibson and partner Lilah Fear scooped fourth place at the World Figure Skating Championships, finishing just three points behind the Canadian bronze medallists.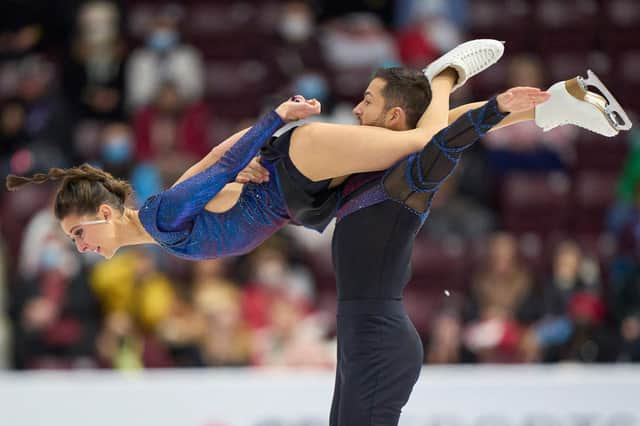 The pair said the close-run finish to the championships, held this year in Saitama, Japan, was an "amazing" way to close the season.
The event was won by Americans Madison Chock and Evan Bates, who despite a fall during their free dance, finished with an overall score of 226 – more than six points ahead of silver medallists, Charlene Guignard and Maro Fabbri from Italy.
The bronze medal was won by Canadian team Piper Gillies and Paul Poirier, who scored 217.88 overall.
Gibson and Fear slipped a place in the free dance, but combined with their one point lead in the rhythm dance, finished fourth, just 0.7 points ahead of Laurence Fournier Beaudryand Nikolaj Soerensen, also from Canada.
The British pair, Fournier Beaudry and Soerensen, as well as Chock and Bates, all train together at the prestigious Ice Academy of Montreal in Canada.
Gibson told The Scotsman: "It was so overwhelming. That crowd were sensational and just so so happy with our performances here in Japan. It was such an amazing way to close out a really great season for us."
Chock and Bates said this yea's season had "unfolded in many unpredictable ways".
Their fall mirrors another they suffered in the 2018 Olympics, which then left them finish in ninth place, having been expected to be medal contenders. However, the fall in Saturday's free dance did not significantly impact their points as it did not take place during one of the mandatory elements in the performance. Instead, a penalty of just one point was taken from the score.
Chock added: "We've really persevered and shown a lot of grit and our performance today was a reflection of that. That little blip in the middle was so fast and unexpected, that I was surprised myself. I was like 'What happened?' and I was back on my feet again and continuing."
Fabbri described the silver medal as "an incredible reward for so many years of hard work".
Gillies, who underwent surgery for appendicitis at the end of last year, said: "We didn't know what to expect after a couple of months of being off, but the moment we stepped onto the ice, we felt really calm. I'm really proud of how united we felt."
Dundee-based pairs skaters Anastasia Vaipan-Law and Luke Digby came 16th in their event earlier this week, in heir first appearance at the competition. Meanwhile, Kristen Spours, who trains in Swindon, did not qualify for the final, finishing in 27th in the women's competition, while Graham Newberry came in 32nd place in the mens' competition, also failing to qualify for the final.
The women's competition was won by Kaori Sakamoto of Japan on home ice, while the mens' final is taking place later on Saturday.
Dundee skater Natasha McKay, who has represented Great Britain in the event five times before, said after the European Championships earlier this year that she would not compete in Worlds.