Forces in Nagorno-Karabakh agree to disarm following Azerbaijani attacks amid dispute with Armenia
The region has been a source of dispute between Armenia and Azerbaijan for decades
Ethnic Armenian forces have agreed to a Russia-brokered ceasefire with Azerbaijan following a second day of attacks on the disputed region of Nagorno-Karabakh.
One of the criteria Karabakh forces have accepted is full disarmament.
Earlier, Baku said it was carrying out the attacks under an "anti-terror operation" and reported it had "neutralised" Armenian military equipment, including military vehicles, artillery and anti-aircraft missile installations.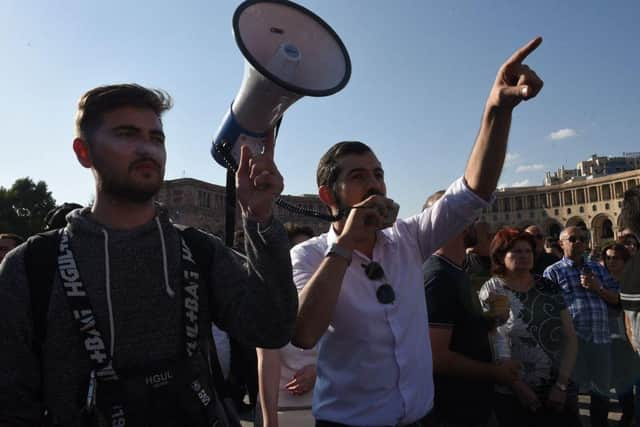 Although internationally recognised as a part of Azerbaijan, the region is controlled by ethnic Armenians and is regarded as one of Europe's frozen conflicts.
Azerbaijan is to meet Karabakh's Armenian representatives to hold talks on "issues of re-integration" in the Azerbaijani town of Yevlakh on Thursday.
The two sides last went to war three years ago, but have been under a ceasefire since, although tensions have been rising. Attempts at peace talks brokered by other countries, including the US, have seen little progress.
US Secretary of State Anthony Blinken said Azerbaijan's president Ilham Aliyev should cease military action immediately. Similar statements came from other countries, including Russia.
Azerbaijan insisted "illegal Armenian military formations must raise the white flag" and dissolve their "illegal regime".
Meanwhile, Armenian protesters gathered outside of the parliament building in Yerevan, calling on their government to take action against the attacks. Some called for Prime Minister Nikol Pashinyan, who accused Azerbaijan of starting a ground operation aimed at "ethnic cleansing", to resign.
Both modern-day Armenia and Azerbaijan became a part of the Soviet Union in the 1920s and, while Nagorno-Karabakh was an Armenia controlled region, the Soviet Union handed powers to Azerbaijan.
Over the following decades, Armenians in the region consistently made calls for the mountainous area to be returned to Armenian control. This came to a head in the 1980s when the Soviet Union collapsed and politicians in the region voted to join Armenia.
A violent conflict ensued when both declared independence from the Soviet Union in 1988, with tens of thousands of casualties recorded and hundreds of thousands displaced.
A ceasefire between the two countries was brokered by Russia in 1994, with Azerbaijan retaining control of the region. Since then, Nagorno-Karabakh has largely been governed by Armenian separatists who declared the region a republic.
Armenian Prime Minister Nikol Pashinyan said his government had not been involved with the text of the ceasefire terms, which had been written by Russia.
Last week, he said in an interview that Russia's invasion of Ukraine means Armenia can no longer rely on Moscow as a guarantor of its security.
"As a result of the events in Ukraine, the capabilities of Russia have changed," Mr Pashinyan said. "The model by which we have problems with our neighbours and we have to invite others to protect us — it doesn't matter who these others are – is a very vulnerable model."
Comments
 0 comments
Want to join the conversation? Please or to comment on this article.