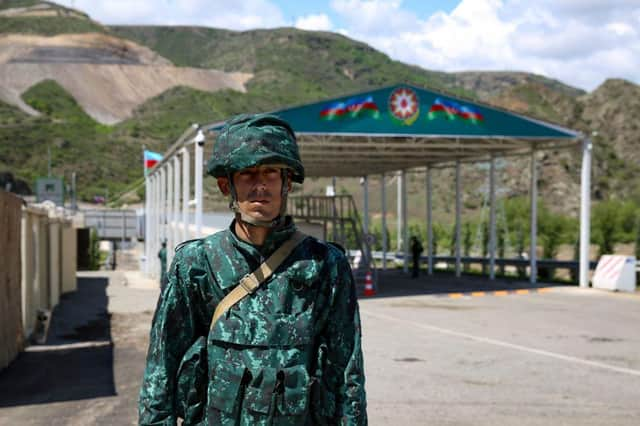 Peace talks began again last weekend between Azerbaijan and Armenia, following more than two years of an unstable ceasefire following the end of a violent clash between the two nations in 2020.
Why is there conflict between Armenia and Azerbaijan?
The conflict is over the disputed region of Nagorno-Karabakh and the surrounding territories, which lies between Armenia and Azerbaijan.
Although internationally recognised as a part of Azerbaijan, the region is controlled by ethnic Armenians and is regarded as one of Europe's frozen conflicts.
Both modern-day Armenia and Azerbaijan became a part of the Soviet Union in the 1920s, and while Nagorno-Karabakh was an Armenia controlled region, the Soviet Union handed powers to Azerbaijan.
Over the following decades, Armenians in the region consistently made calls for the mountainous area to be returned to Armenian control. This came to a head in the 1980s when the Soviet Union collapsed and politicians in the region voted to join Armenia.
A violent conflict ensued when both declared independence from the Soviet Union in 1988, with tens of thousands of casualties recorded and hundreds of thousands displaced.
A ceasefire between the two countries was brokered by Russia in 1994, with Azerbaijan retaining control of the region.
Since then Nagorno-Karabakh has largely been governed by Armenian separatists who declared the region a republic.
However, a peace treaty has never been signed by the two countries and tension has flared up on several occasions in the past couple of decades.
Are the two countries at war now?
Not technically. The last time there was a recognised, active conflict was in 2020, when fighting flared up on 27 September, 2020. The war, known as the "Second Nagorno-Karabakh War", lasted for 44 days and thousands of people were killed.
A ceasefire, brokered by Russia, was declared and an agreement signed in November 2020, when more than 2,000 Russian peacekeeping forces were deployed to the region.
During the conflict, Azerbaijan regained control of five cities, four towns, 286 villages and the Azerbaijan–Iran border.
However, the ceasefire has been unstable and hundreds of troops have since been killed in border clashes.
What has happened in recent weeks?
Next weekend, European Council president Charles Michel is to host a meeting between Azerbaijan's president Ilham Aliyev and Armenia's prime minister Nikol Pashinyan.
A statement published by the European Union said the two leaders would also meet on 1 June in Moldova during an EU-sponsored development meeting to be attended by President Emmanuel Macron of France and Chancellor Olaf Scholz of Germany.
"The leaders have also agreed to continue to meet trilaterally in Brussels as frequently as necessary to address ongoing developments on the ground and standing agenda items of the Brussels meetings," the EU statement said.
This comes after the two countries' foreign ministers held discussions in Washington last week. US secretary of state Antony Blinken said those talks "made tangible progress on a durable peace agreement" and that he believed "an agreement [is] within sight, within reach".