Faked AI photos of naked teenage girls circulated on internet in Spain
The girls had not posed nude for any of the photos
Naked photos of a group of teenage girls have been circulated on the internet in Spain – after AI doctored images of them fully clothed.
The girls, aged between 11 and 17, who live in the small town of Almendralejo, in the south-western province of Badajoz, found out naked photographs of them had been passed around, but had not posed for any of the images.
It is understood an app took pictures of the girls used on their own social media profiles and used artificial intelligence (AI) to generate naked images of them.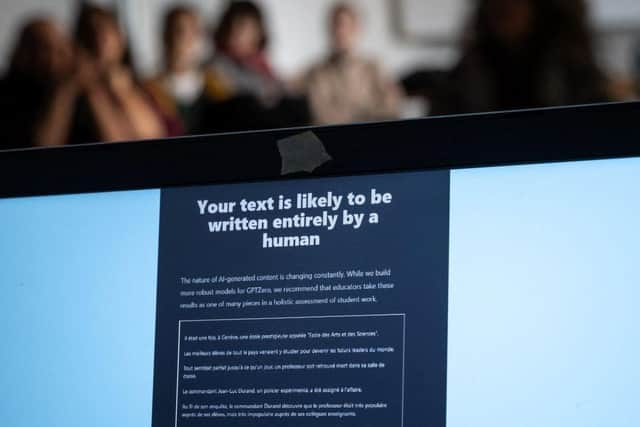 "One day my daughter came out of school and she said 'Mum there are photos circulating of me topless'," said María Blanco Rayo, the mother of a 14-year-old.
"I asked her if she had taken any photos of herself nude, and she said, 'No, Mum, these are fake photos of girls that are being created a lot right now and there are other girls in my class that this has happened to as well."
A total of 11 boys from the local area have been identified as being involved in the generation of the photos, or circulation of the images using the WhatsApp and Telegram apps. There are also claims that one of the girls has been blackmailed using the photos.
The boys are all said to be aged between 12 and 14.
Around 28 girls have so far found that they are victims.
This is not the first case of its kind in Spain – although a similar case did not involve children. Earlier this year, AI-generated topless images of Spanish singer Rosalía were posted on social media.
Some parents of the girls have said they now do not want to leave their homes.
The mother of one of the victims, Miriam Al Adib, a local doctor, has used social media to highlight the situation. She released a video telling the girls they should not feel ashamed.
She said: "When you are the victim of a crime, if you are robbed, for example, you file a complaint and you don't hide because the other person has caused you harm. But with crimes of a sexual nature the victim often feels shame and hides and feels responsible. So I wanted to give that message: it's not your fault."
Spanish police have said they are investigating the situation. However, it is not yet clear what any suspects could be charged with, especially given their age.Spanish law does not specifically cover the generation of images of a sexual nature when it involves adults, although the creation of such material using minors could be deemed child pornography. The suspects could also potentially be charged for breaching privacy laws. However, in Spain, minors can only face criminal charges from the age of 14 upwards.Javier Izquierdo, head of children's protection in the national police's cyber-crime unit, said these kinds of crimes are no longer confined "to the guy who downloads child porn from the Dark Web or from some hidden internet forum".He added: "That obviously is still going on, but now the new challenges we are facing are the access that minors have at such an early age [to such technology], such as in this case."
Comments
 0 comments
Want to join the conversation? Please or to comment on this article.