Emmanuel Macron interview: Was 'scripted' interview with autistic journalists a clever piece of PR, or a communications disaster?
It was a clever piece of PR designed to bring a more human side to the French president, who is often regarded as epitomising the privileged classes in a deeply divided country struggling with a cost-of-living crisis.
However, Emmanuel Macron's candid interview with a group of autistic journalists, shown on state broadcaster France TV, has potentially backfired, amid criticisms of its being "scripted".
The president also came under fire for his defence of his relationship with his wife, who he met as a teenager when she was a teacher at his school.
The informal discussion at times appeared fairly authentic, with Mr Macron claiming the questioning had taken him "onto ground where I have not been in other interviews" – which was presumably the aim. Yet other segments, including one that saw the 45-year-old wiping away tears when asked if he still missed his – presumably deceased – grandmother, appeared less so.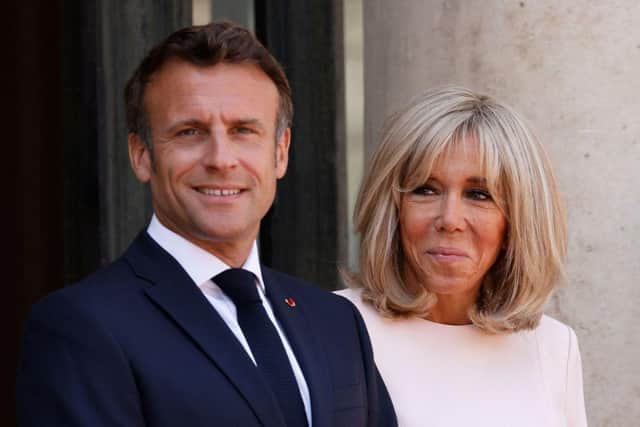 "France TV demonstrates with great obsequiousness to what extent it has become a propaganda relay and a personal communications agency for Macron," insisted one Twitter user, White Spirit.
One of the interviewers at the Le Papotin centre was apparently too embarrassed to put his question directly to Mr Macron, instead passing a note to the president. it was on a topic that must – if his communications team have any sense at all – have been pre-agreed.
"He is the president – you should be exemplary and not marry your teacher," he read.
Mr Macron's relationship with his wife, Brigitte, who at 69 is 24 years his senior, has long been a source of controversy.
"You don't choose who you fall in love with," he told the reporter. "She wasn't really my teacher, she taught me theatre. It is not like she was my maths teacher."
In the #MeToo era, when numerous teachers have been struck off – and some jailed – for relationships with students while in positions of power, some viewers were not happy with his response.
"I don't find it 'romantic' that a grown woman and a teenager are dating," one critic wrote.
There is no debate that – in a UK court of law at least – Mr Macron's argument would not wash.
What the interview will do for his flagging popularity ratings remains to be seen.
Comments
 0 comments
Want to join the conversation? Please or to comment on this article.