Donald Trump to surrender to face criminal charges - with former president expected to plead not guilty in New York court
Former US President Donald Trump will today face history-making criminal charges and will surrender to face criminal charges stemming from 2016 hush money payments.
The charges he faces will be disclosed in full at the hearing, which is scheduled for around 14:15 local time (7:15pm GMT)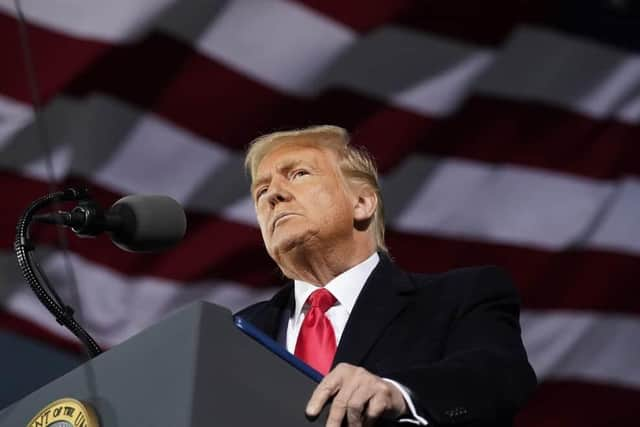 Mr Trump, who was impeached twice by the US House but was never convicted in the US Senate, will become the first former president to face criminal charges. The nation's 45th commander in chief will be escorted from Trump Tower to the courthouse by the Secret Service and may have his mug shot taken.
The 76-year-old posted "WITCH HUNT," on his Truth Social platform before travelling from his home in Florida to New York on Monday - a journey which drew blanket coverage across the US.
New York police are braced for protests by Mr Trump's supporters, who share the former president's belief that the New York grand jury indictment — and three additional pending investigations — are politically motivated and intended to weaken his bid to retake the White House in 2024.
The former reality-TV star has been hyping that narrative to his political advantage, raising millions of dollars since the indictment on claims of a "witch hunt".
He has personally assailed the Manhattan district attorney, egged on supporters to protest, and claimed without evidence that the judge presiding over the case "hates me" — something Mr Trump's own lawyer has said is not true.
Mr Trump is scheduled to return to his Florida home, Mar-a-Lago, on Tuesday evening to hold a rally, punctuating his new reality, submitting to the dour demands of the American criminal justice system while projecting an aura of defiance and victimhood at celebratory campaign events.
A conviction would not prevent Mr Trump from running for or winning the presidency in 2024.
Inside the Manhattan courtroom, prosecutors led by New York's district attorney, Alvin Bragg, are expected to unseal the indictment issued last week by a grand jury. This is when Mr Trump and his defence lawyers will get their first glimpse of the precise allegations against him.
The indictment includes multiple charges of falsifying business records, including at least one felony offense, two people familiar with the matter told The Associated Press last week.
After the arraignment, Mr Trump is expected to be released by authorities because the charges against him do not require that bail be set.
The investigation is scrutinising six-figure payments made to porn actor Stormy Daniels and former Playboy model Karen McDougal. Both say they had sexual encounters with the married Trump years before he got into politics.
Mr Trump denies having sexual liaisons with either woman and has denied any wrongdoing involving payments.