It is a regular morning ritual for many people – who regard it as vital to kick-start the day.
Now the daily cup of coffee is under threat from the climate crisis, with temperature rises of just 1.5 to two degrees set to reduce land suitable for growing coffee by 54 per cent by the end of the century, an aid organisation has warned.
A report from Christian Aid - Wake up and smell the coffee: The climate crisis and your coffee - warns coffee farmers in low income countries vulnerable to climate change, such as Brazil, Vietnam and Ethiopia, need support to deal with the effects of climate change.
Analysis from the international development charity warns coffee farmers are facing a host of climate-related impacts such as rising temperatures, erratic rainfall, disease, droughts and landslides.
Polling by Savanta, commissioned by Christian Aid, found nearly 60 percent of Scots say they are concerned that climate change will impact the cost, taste, and availability of coffee in the UK.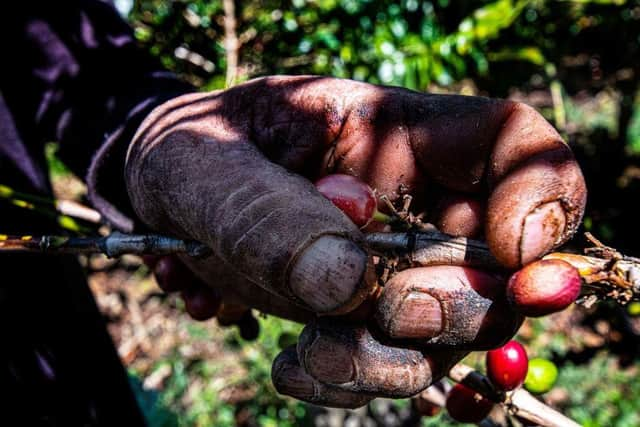 The polling also shows more than seventy percent of Scots agree that the UK Government should do more to reduce the impact of the climate crisis on the food supply chain to Britain, supporting farmers in developing countries to shift towards more sustainable and resilient methods of production.
The report's conclusion includes recommendations to boost climate finance to help farmers in diversification of livelihoods to climate resilient crops and cancelling unjust debts to help countries free up resources to tackle climate change and poverty.
Val Brown, head of Christian Aid Scotland, said: "Climate change is starting to impact the things we take for granted. We can't ignore the reports coming from the coffee growers that they are struggling and the crops are becoming less viable with each passing year, and it's good to see the majority of the Scottish public understand this.
"Both the Scottish and UK Governments need to direct funding to support farmers in climate resilient crops and diversification. But we also need debt cancellation so that lower income countries have the extra resource to support their farming communities and help them deal with the immense challenges they face."
Mackson Ng'ambi, chief executive of Mzuzu Coffee Cooperative in Malawi, said: "Our experience is that in a year where the early season rains have been poor or non-existent, coffee flowering has also been grossly poor. This is now a frequent recurrence.
"The global coffee pricing should take into consideration that farmers are making more effort to maintain a field of coffee and hence increased cost of production. If this is not recognised and informs coffee prices, sadly most growers will abandon coffee farming."
Petronila Barahona Cedillo, 52, from El Porvenir, Honduras, works with her family on their farm, using technology such as rain gauges and weather stations to support their farming.
"We need to educate," she said. "If human beings knew the damage they are doing to nature, and the consequences that this is going to bring, I think that they would never do what they are doing now."