British citizens trapped in Sudan 'may not be able to leave' after ceasefire ends
British nationals still trapped in Sudan may not be able to leave once a 72 hour ceasefire comes to an end, the Foreign Secretary has said.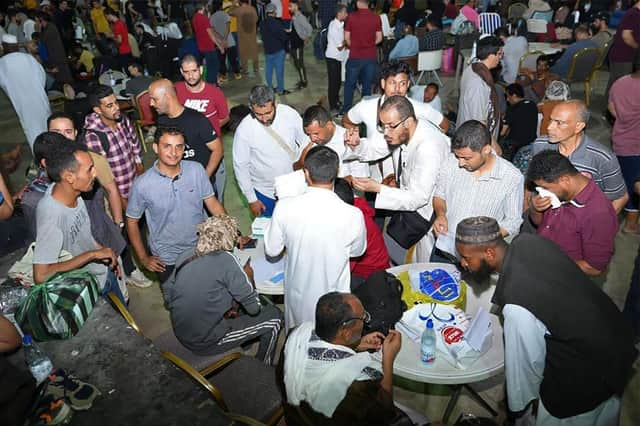 James Cleverly said there is no guarantee of further evacuation flights after an agreed halt in fighting was set to end at midnight on Thursday.
It comes as the Government faces domestic and international criticism over its response to the crisis.
Fighting broke out in Sudan last week, between two opposing military groups. A 72 hour ceasefire was brokered by the US in a bid to allow access for evacuation, but is expected to end tonight. In some areas, fighting has continued throughout the ceasefire.
Meanwhile, Germany accused the UK of delaying its efforts to evacuate its citizens from Sudan after causing a temporary blockade at an airfield.
BBC reports claimed senior German political sources said that the Sudanese army was angered by British forces landing in the country without permission, leading to a temporary blockade of the Wadi Seidna airfield, near the capital Khartoum. They said the move – which has been dismissed by the Ministry of Defence - meant German rescuers "lost at least half a day" to operate evacuation flights.
Mr Cleverly said his "understanding" was that the UK did have permission to land in Sudan.
Mohamed Osman, from Human Rights Watch, said there are "a lot of compounding challenges" in the evacuation attempts.
The internet has been down in large parts of Sudan in recent days, making it difficult for people to get information on safe routes out of the country.
"There's a lot of uncertainty and fear because even the people who manage to move out of Khartoum, they are stuck somewhere, they are experiencing looting and banditry or they're getting stuck at border crossings," he said.
Mr Osman added that the fighting was likely to intensify again as soon as the ceasefire is over.
"There have been no clear mechanisms on the ground to verify the ceasefire independently and the fact there have been no consequences for the leaders for violating the commitments they made - it's hard to imagine anything positive is going to come out after the ceasefire," he said.
Mr Cleverly, who insisted simple comparisons to the evacuation efforts of other countries is not possible, warned yesterday that anyone considering leaving the country may only have a limited window to do so.
"We cannot predict exactly what will happen when that ceasefire ends but what we do know is it will be much, much harder, potentially impossible," he said.
"So what we're saying to British nationals is if you're hesitant, if you're weighing up your options, our strong, strong advice is to go through Wadi Saeedna whilst the ceasefire is up and running. There are planes, there is capacity, we will lift you out. I'm not able to make those same assurances once a ceasefire has ended."
More than 2,000 British nationals in Sudan have registered with the Foreign, Commonwealth & Development Office under evacuation plans, but thousands more could be in the war-torn nation.
Defending the pace of the UK response, Mr Cleverly pointed to complications in getting British nationals out of the conflict zone.
"Different countries have different sets of circumstances," he said. "Their nationals in countries don't all behave the same way. Countries where their nationals tend to live in a close expat community who are geographically co-located, it's easier for them to move en masse, it's easier for them to be evacuated."
There are concerns the evacuation efforts have seen families split up or some members left behind.
Only British passport holders and immediate family members with existing UK entry clearance are being told they are eligible for evacuation.
Alicia Kearns, the Tory chairwoman of the Foreign Affairs Select Committee, has called for elderly people dependent on children who are British citizens to also be accepted.
"Where we have families where a British national perhaps has a Sudanese national as spouse, Sudanese children or extended family, it makes the extraction more complicated," Mr Cleverly said.
"We have given advice as to the status or the prioritisation of the people that we are able to withdraw. We have said it's British nationals and Sudanese with travel documents."
Mr Cleverly said some Sudanese nationals have been prevented by the military from reaching the airstrip - but spoke of "difficult cases".
"Of course, we are trying to facilitate as many people to leave the country as possible," he said.
Mr Cleverly did not offer any details about the possibility of safe and legal routes for those fleeing Sudan to get to the UK.
"There is war and conflict all over the world," he said. "There are literally millions upon millions of people who are in countries plagued by war. We recognise that we cannot host everybody who is in a country plagued by war."
The crisis has sparked huge movement of refugees. More than 3,600 people have arrived in Eithiopia since the fighting began, while the United Nations warned that up to 270,000 people could also seek refuge in neighbouring South Sudan, Chad and Egypt.
Meanwhile, more than 9,000 refugees who fled South Sudan during the civil war between 2013 and 2016 have returned home since the conflict began. South Sudan, which was declared a sovereign state in 2011, on Thursday took the lead in trying to negotiate peace between the two warring sides in Sudan.
Comments
 0 comments
Want to join the conversation? Please or to comment on this article.