Scotland's weather: Two more days of weather warnings set for Scotland with temperature to drop to -15C in places
Two more days of snow and ice have been forecast for Scotland, with cold weather set to continue across much of the nation.
According to the Met Office temperatures could drop as low as -15°C overnight on Tuesday in some sheltered Scottish Glens, especially where there's fresh snow cover.
Earlier this week a host of snow warnings were issued, with more set to be in place until Thursday with warnings in place from 4pm on Wednesday evening until 4am on Thursday.
A warning for snow across much of the country reads: "Spells of snow are expected to develop Wednesday late afternoon and early evening, mainly in areas above 100 to 200 m. Later on Wednesday evening and during Thursday early hours this snow will then turn to rain as milder weather conditions spread across the British Isles.
"Meanwhile, below 100 to 200 m, snow may fall briefly during the late afternoon and early evening before turning to rain. Snow accumulations will be mainly in areas above 200 to 300 m with several centimetres of snow falling in some places, especially in Scotland, and above 400 m more than 10 cm of snow is possible in places.
A futher yellow weather warning is in place for snow and across much of the north of Scotland, with the warning reading: "Sleet and snow showers will continue to affect parts of the Hebrides, the north of mainland Scotland and, more especially, Orkney overnight, which may lead to some icy patches and perhaps a few cm of fresh snow. Conditions will also turn very windy for a time across Orkney this evening when showers will be accompanied by gales.
Met Office Deputy Chief Meteorologist Helen Caughey said: "The impactful weather will continue through the latter part of the week as mild air pushing in from the southwest meets colder air in situ with further snow and ice for many areas.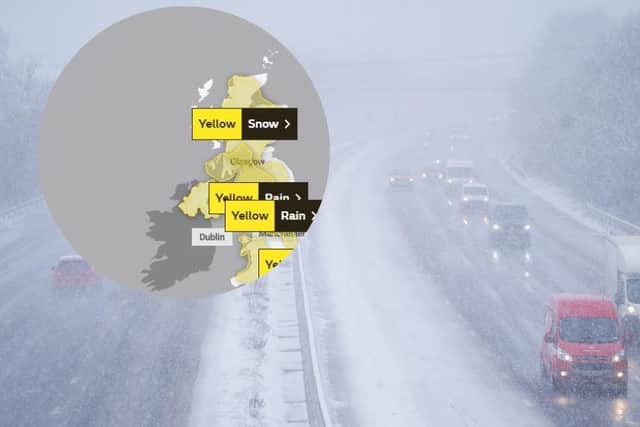 "Through Thursday and Friday the snow risk spreads, to central and northern areas of the UK, with the potential of some significant accumulations even to low levels, which have the potential to cause impacts. Parts of Scotland and northern England will see snow arrive through Thursday afternoon.
"Snow across the northern half of the UK will persist through much of Friday, while further south, any snow will turn back to rain through Thursday afternoon and evening. Strong winds are also expected to develop through Thursday and Friday which may create drifting snow and blizzard conditions in places."