Temperatures are set to drop almost six degrees below their coldest last March, when they reached minus 9.1C in Aboyne, Aberdeenshire.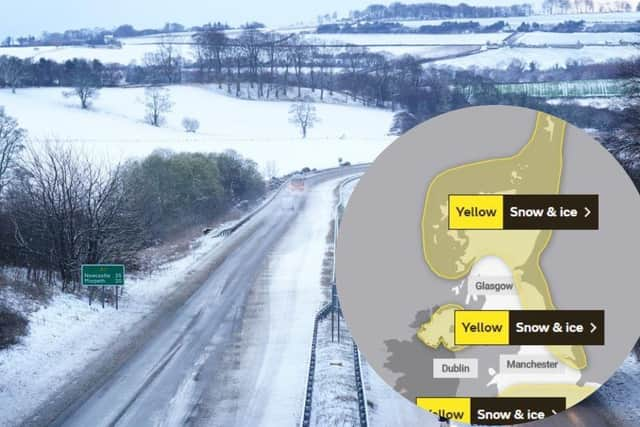 Weather warnings for snow and ice are in place across all four nations of the UK and more are expected to be issued as Arctic air sweeps across the country.
A yellow weather warning for snow and ice is in place in much of Northern and Eastern Scotland and North East England with the warning in place until 10am on Wednesday.
A yellow weather warning for snow and ice will much on England and Wales until 10am on Tuesday with an identical one in place in Northern Ireland at the same time.
A subsequent weather warning is also in place in Scotland on Thursday and Friday 3am on Thursday and 6pm.
Snow drifts could occur on Friday, the Met Office said.
Snow began falling in Northern Scotland on Monday afternoon. More than 20cm of it could accumulate over high ground in Scotland and more than 5cm is likely to accumulate at lower levels in the north-east of the UK.
Northern Ireland will initially escape large accumulations of snow but 2cm could settle in some spots on Monday night, most likely over higher ground and northern parts of the six counties.
The Met Office said snow will move from the south to the north of the UK as mild air from the south-west meets cold air.
The Met Office warned travel disruption is likely and journey times by car, train and bus may take longer than usual.
People are at risk of slipping and falling on icy patches of untreated roads, pavements and paths while some rural communities could become cut off from the power grid.
Dale Hipkiss, National Network Manager at National Highways, said people should keep warm clothes and a torch in their car in case they get stuck in icy conditions.
He said: "Freezing conditions bring so many hazards such as snow and ice. Take every possible step to understand your journey in advance and allow lots of extra time when travelling to prepare for the unexpected.
The agency's Head of Extreme Events and Health Protection Dr Agostinho Sousa said people should check on vulnerable relatives and told pensioners and anyone with an underlying health condition to heat their home to at least 18C.
On March 14 1958 the mercury dropped to a record low for the month of minus 22.8C at Logie Coldstone, Aberdeenshire.