The weather warnings are in place for much of the Highlands, Orkney, Shetland, most of the North East and parts of Fife.
The Met Office said temperatures could drop to minus 10C on higher ground where snow had fallen, which would represent the coldest temperature of the year so far.
Between 5cm and 10cm of snow could accumulate over northern Scotland and snow is also likely to reach lower ground over large parts of the country, with icy conditions likely to cause travel disruption.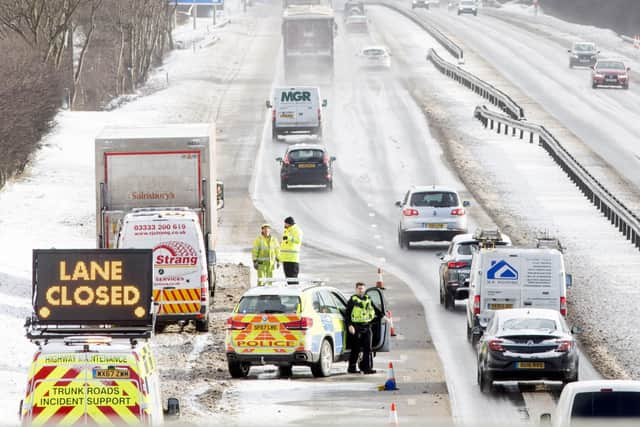 Northerly winds are likely to push temperatures down to minus 4C in the north east of Scotland, forecasters said.
Mountain rescue chiefs have urged caution for those heading into the hills as conditions turn "increasingly challenging".
The change in weather is due to Arctic airflow knocking out high pressure and milder temperatures.
Senior meteorologist Craig Snell said: "Going into next week we do see a bit of a change with even colder air coming through and then an increase in risk of sudden disruption due to some sleet, snow and some ice.
"So at the moment, the main focus is across northern and eastern parts of the UK where we have issued warnings already for Monday and Tuesday for the risk of some snow showers moving in from the north.
"Highest accumulations will be across the high ground. But even at lower levels, we are likely to see some disruption in places as the showers come through."
Mr Snell said the Met Office yellow warnings, which are in place for all of Monday and Tuesday, are unlikely to change.
He added: "Scotland and some eastern parts of England have warnings going throughout Monday and Tuesday. In other parts of the country, we are keeping a close eye on it, there is a chance that we could see some snow further south as we kind of go through the week ahead.
"Some uncertainty still on where that snow is going to be because at the same time we will be seeing a milder air trying to come in from the Atlantic.
"So some places may well see some rain and other places may well see some snow."
Areas affected by the warnings could experience power outages, delays to road, rail and air travel, icy surfaces and some rural communities may be cut off by the freezing conditions.
James Coles of Scottish Mountain Rescue and Team Leader at Moffat Mountain Rescue said: "The UK is entering a period of increasingly challenging weather conditions with snow, ice and gusty winds all featuring prominently in the forecast for the coming week. Upland areas, especially in the mountains, can see conditions change very rapidly and they may be markedly different from surrounding lowland areas.
"Met Office warnings come into force on Monday, but conditions ahead may deteriorate more quickly at higher elevations."