The Met Office had yellow warnings in place covering large swathes of the country after Storm Larisa battered parts of the UK with gales and blizzards.
Drivers were urged to get behind the wheel only if necessary, with some motorists left stranded due to heavy snowfall.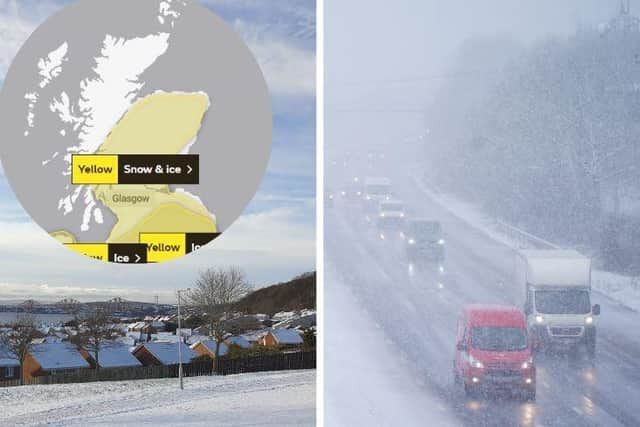 There was a 20 degree difference in minimum temperatures across the UK overnight, with a harsh frost in the north and milder conditions in the south.
The lowest temperature of minus 15.2C was recorded at Altnaharra in northern Scotland while the highest temperature of 5C was recorded in Swanage, Dorset, in the south of England.
Heading into the weekend, the Met Office expects cloud and rain to spread north east on Saturday, turning to snow over high ground. Temperatures are set to be cold but becoming much milder for the west and south west.
A yellow snow and ice warning covers much of northern England and southern Scotland until 6am on Sunday.
A warning for snow and ice is in place for most of northern and eastern Scotland, as well as the central belt.
A further yellow warning is in place for southern Scotland across Dumfries and Galloway and the Scottish Borders.
The Met Office warns that snowfall could cause travel disruption in the affected areas, with delays on roads stranding some vehicles and passengers.
The warning from the Met Office reads: "An area of low pressure moving in from the southwest through Saturday night into Sunday will bring a band of precipitation across much of the UK.
"The forward edge of this is expected to fall as a transient band of snow which may bring accumulations over higher ground, before turn increasingly to rain from the south through the night. However, for some places in the north of this area, this band may become slow-moving and snow may persist into Sunday morning.
"For much of the area, accumulations likely to be confined to elevations above 200m, with 2-5 cm possible, 5-10cm possible above 400m. These accumulations likely to begin melting with the onset of rain, although, during this transition freezing rain is possible giving icy conditions, mainly over higher ground.
"In the north, where the band of precipitation becomes slow-moving, similar accumulations are expected although this will not melt, with lying snow remaining through Sunday."
The snow comes as part of Storm Larissa, which has also brought 50mph winds and up to 40cm of snow in some parts of the country.