More sleet and snow is expected across much of the UK on Wednesday – with a yellow weather warning for snow and ice remaining in Scotland until Friday.
The Met Office's early morning radar showed an area of rain moving in from the south and west which was starting to turn increasingly to sleet and snow as it pushed north and east.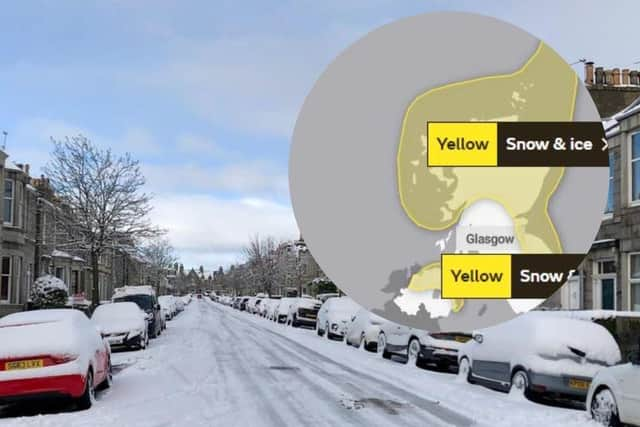 The Met Office yellow warning in place in Scotland reads: "Snow across central and northern areas will and persist through much of Friday, while across the southern portion of the waring area, snow will turn back to rain through Thursday afternoon and evening. Event totals could bring 3 to 5 cm widely across this area, with 5 to 10 cm of snow across broad areas, even at low elevations, with potentially 15 to 20 cm accumulating across the central and northern areas."
The forecasting body's chief meteorologist, Matthew Lehnert, said a number of national severe warnings for snow and ice were issued and that further warnings, or updates to the current warnings, are "very likely".
Mr Lehnert said: "Snow, ice and low temperatures are the main themes of this week's forecast, with the UK under an Arctic maritime air mass.
"Snow could lead to some travel disruption, with a chance some rural communities in the north could be cut off.
"The focus for the snow moves to southern England and South Wales tomorrow and some may wake up to a few centimetres of snow, with the south coast and far south-west likely to see a mix of rain and sleet. Further snow and hail showers are also expected along northern coasts, especially in northern Scotland."
He added: "During the afternoon, a further spell of sleet and snow is likely to develop across southern England and South Wales which could cause travel disruption into the evening. The impact of lying snow and ice on untreated surfaces may have an impact on Thursday morning travel."
The Met Office also warned that ice will be an additional hazard through the week as regions experience sub-zero temperatures.
In some sheltered Scottish glens, temperatures had been expected to drop as low as minus 15C overnight on Tuesday.
Moffat Mountain Rescue, based in Scotland, warned that conditions can change "very rapidly" in mountain areas as the UK battles with snow, ice and gusty winds.
Met Office deputy chief meteorologist Helen Caughey detailed weather changes over the second half of the week.
She said: "Through Thursday and Friday the snow risk spreads, to central and northern areas of the UK."
Ms Caughey added: "Snow across the northern half of the UK will persist through much of Friday, while further south, any snow will turn back to rain through Thursday afternoon and evening.
"Strong winds are also expected to develop through Thursday and Friday which may create drifting snow and blizzard conditions in places."