The Met Office says Arctic air coming from the north will collide with rain-bearing milder air sweeping up from the south west.
Where these forces engage, heavy rain is expected to turn to heavy snow, even to lower levels, from 5am today in the north and impacting the Central Belt from this evening.
The warning is in place until 11am on Tuesday.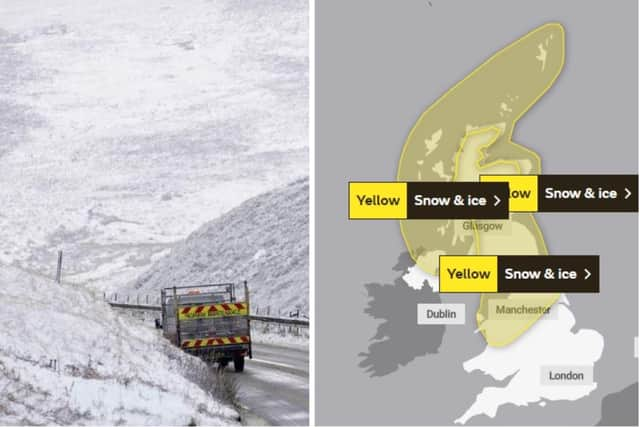 Three separate yellow weather warnings have now been issued for different parts of the country, predicting journeys made more difficult by snow and an ice danger on Tuesday morning when the snow melts and re-freezes.
The mercury could drop as low as -12C tonight and even -13 tomorrow.
Greg Dewhurst of the Met Office said: "Things will turn increasingly unsettled for Scotland on Monday.
"We will see heavy rain turning to snow for many, with icy conditions to follow on Tuesday morning.
"Our readings show 12cm (about five inches) of snow lying in Althanarra, Sutherland, which will help keep things very cold up there.
"Overnight values of -12C or -13C can be expected, which is well below the average for the middle of March."
While wintry conditions can be expected in the north east and Highland areas from 5am today. it is not until 5pm that snow for the central belt will arrive.
This will affect Strathclyde and Lothian and Borders, including Glasgow and Edinburgh.
Other areas caught up in this warning include Central, Tayside and Fife, Dumfries and Galloway and the Scottish Borders.
The warning, which lasts until 10am on Tuesday, states: "An area of rain will turn to sleet and snow from the north, initially over Scotland, and then over northern England during Monday evening.
"Accumulating snow will mostly be above 200-300 m, but possibly to lower levels in Scotland for a time, with 2-5 cm (up to two inches) in places.
"Sleet and snow clearing south-eastwards overnight into Tuesday, with temperatures then falling and ice forming, particularly on untreated surfaces."
Road and rail travel is likely to be affected and there's a danger of people being injured by falling on icy surfaces.
The Met Office long range forecast has cold conditions persisting until, the "latter part of March" although there is still the prospect of some bright, sunny, days.
The BBC weather service is predicting snow showers for Scotland right into the last week of this month.
Officially, it is less than two weeks before the start of British Summer Time.
Met Office forecaster Tom Morgan:"Early April is still too far away to be confident about the forecast but the trend could be towards drier, warmer, weather you would expect for the month.
"The chance of a White Easter at this stage is very low."
Elsewhere in the UK, some motorists left stranded due to heavy snowfall. In north Wales two hill-walking families had to be rescued after they were caught in poor weather.